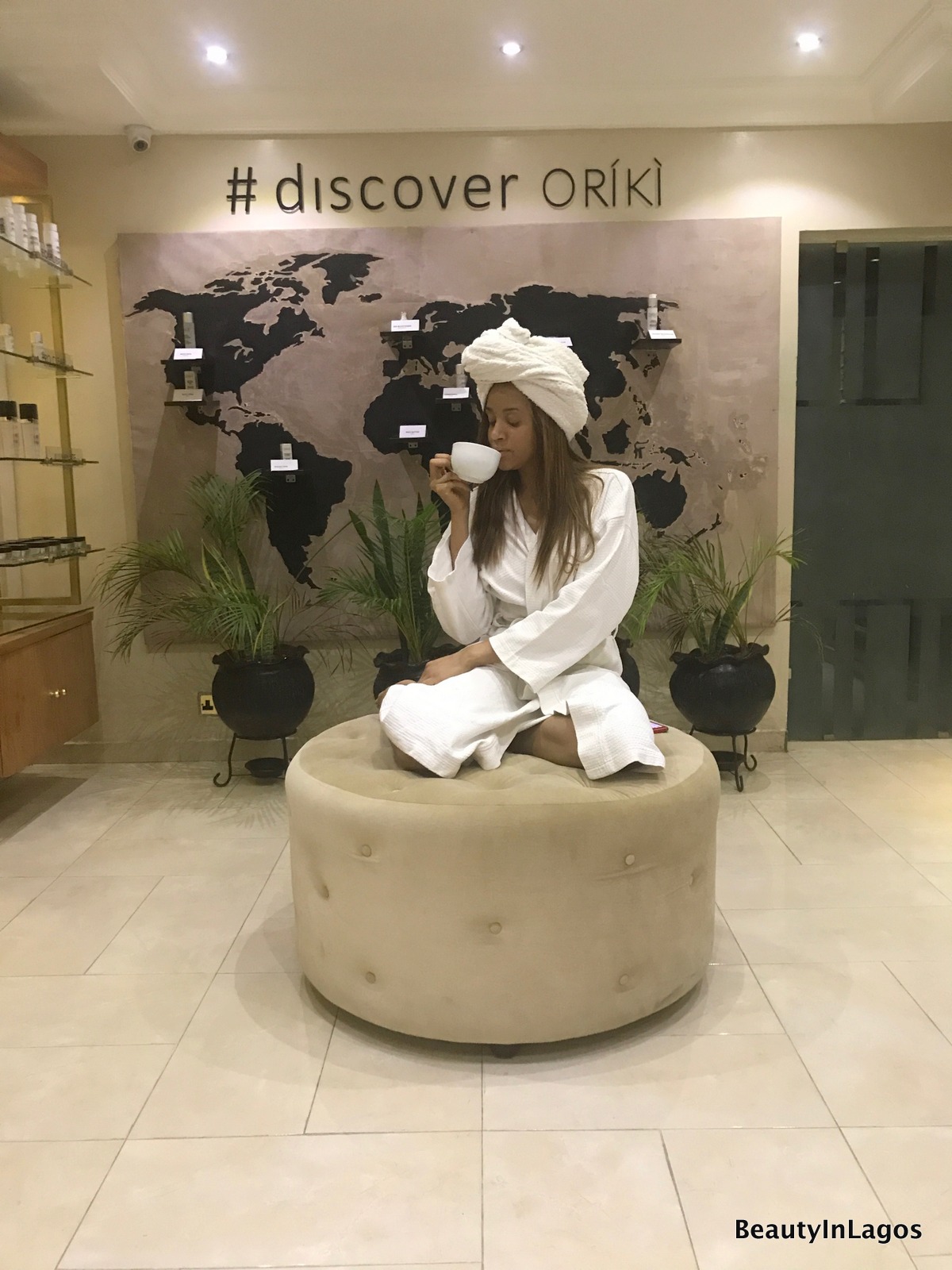 If you are after a relaxing & rejuvenating spa experience, look no further than Oriki Lagos. I shared pictures of this gorgeous spa in an 'Out & About' post on the blog some time ago, if you would like to see that post please click here.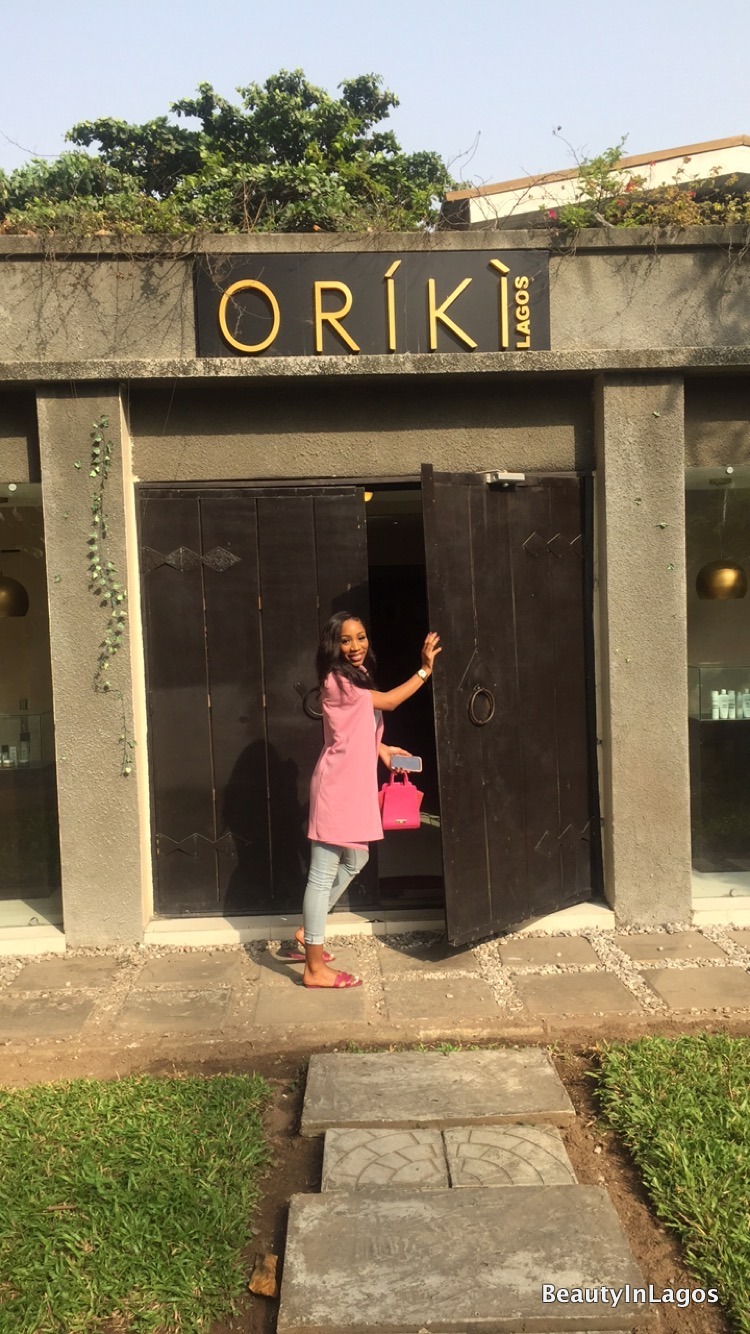 I recently met a fellow blogger/influencer, Chi (@the_real_chi). She's based out in New York and was in town for the holidays, I thought how fun it would be to show her some beauty spots here in Lagos and have her experience a typical Beauty In Lagos pamper day. I started off with a facial, then Chi met me for Mani-Pedis and we ended the day with an AMAZING spa experience at Oriki. We opted to get the Oriki 'Triple Delight' treatment.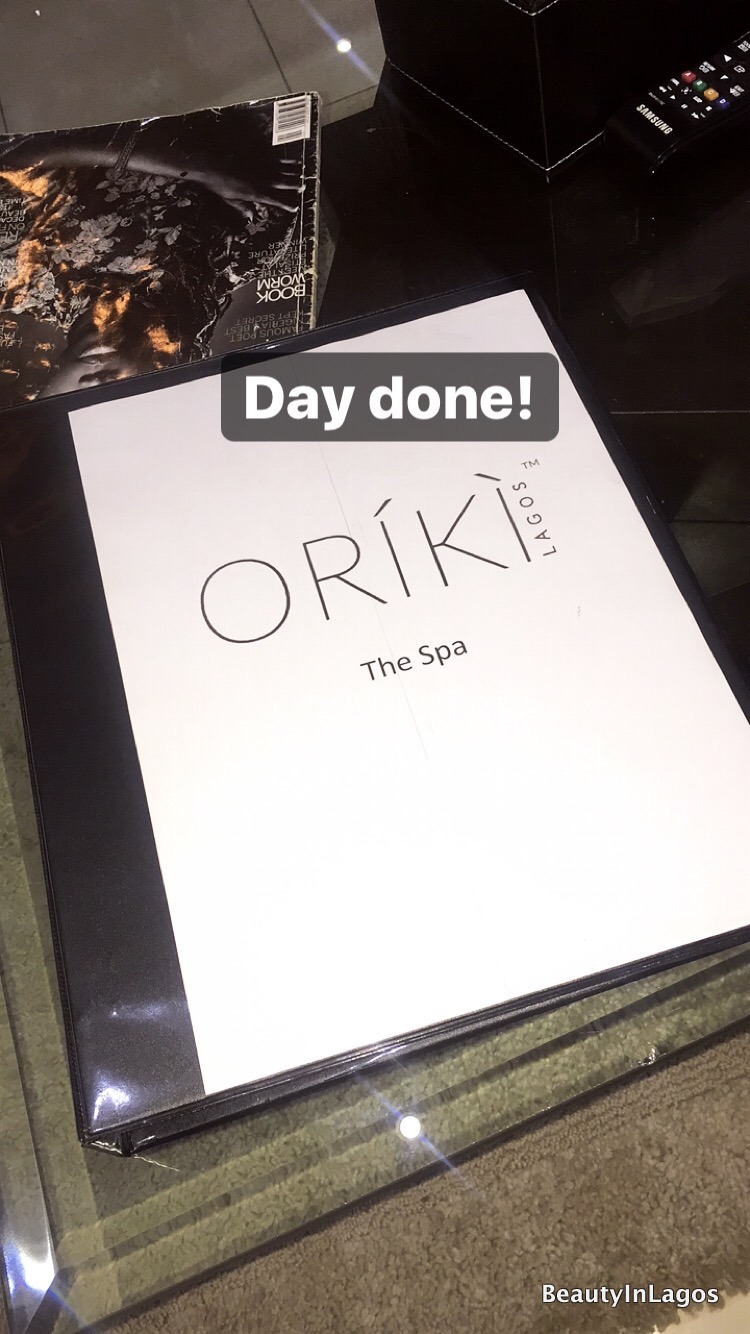 The Oriki 'Triple Delight' is a 90minute all-over-body treatment…. pause….. yes, that's a whole 1hour 30min pamper session! It comprises a 30min Scrub, 30 min Mask & 30 min Massage. Now that's how they break it down to you, but let me tell you it's a whole lot more than just a Scrub, Mask & Massage. Let me break down our entire experience for you..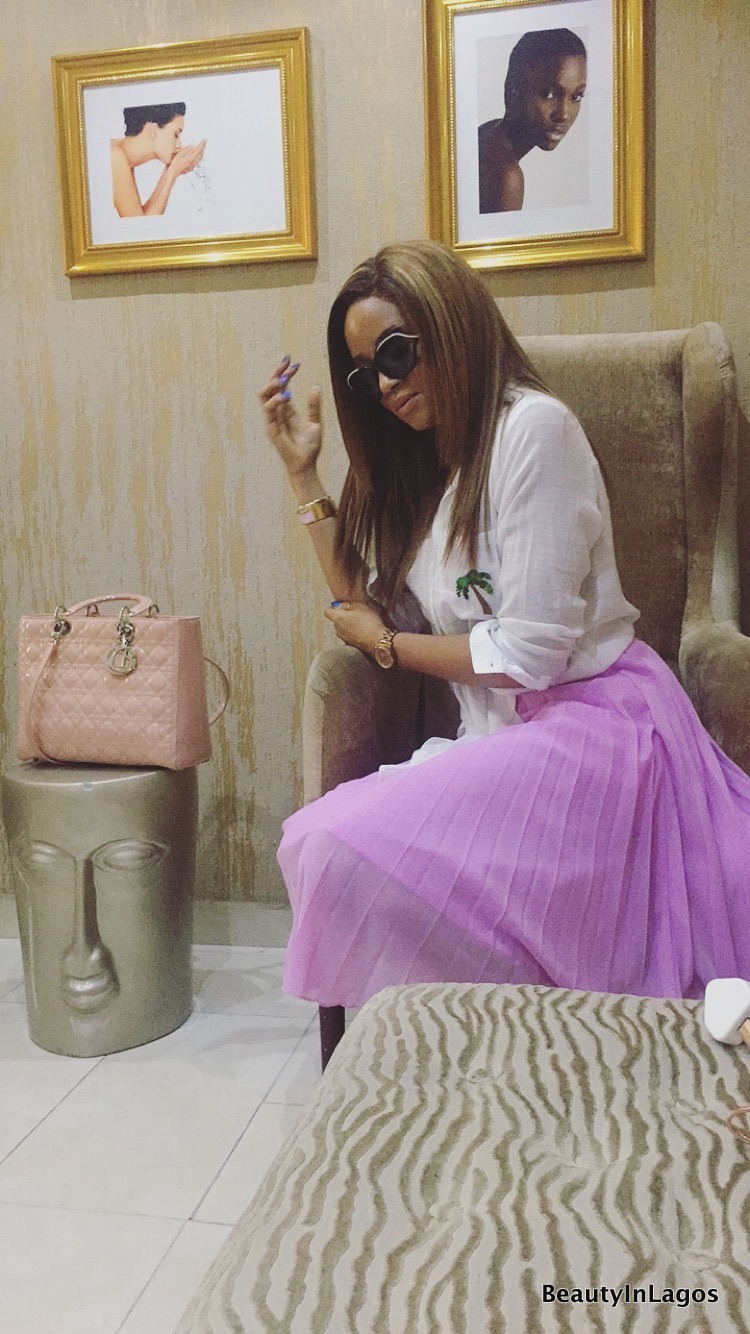 The treatment started off with a 10min steam session in the steam room. So Chi and I were sat in the steam room completely starkers with just disposable panties on. Way to 'bond' no? lol. Ps: expect to be naked the entire treatment, they offer you disposable panties though. However,  they may accommodate a polite request to have a bikini top on, if you are like me and a bit uncomfortable with just anyone seeing you naked. I honestly don't know what got into me, I was just a nudist for the day lol. Ok, so after the 10min steam session where Chi caught me up on some of what she's been up to out here, we were then asked to lie face down on the spa bed, which was covered with like a clear plastic sheet,  and we were scrubbed down with a mixture that contained Sugar, Honey, Lemon & a special blend of oils. The pressure from the therapist was just right, we were scrubbed from the neck down to the soles of our feet, asked to flip over and same was done on the other side. All while laying down. After which the clear plastic sheet was wrapped round our bodies and then we were cocooned in the wrap with towels for 5mins. Then asked to rinse ourselves off in the shower using exfoliating mitts and an amazing Peppermint body wash that was from their in-house brand (oh, Oriki retail their own range of body & skincare products; and judging from the body wash, I'm very impressed).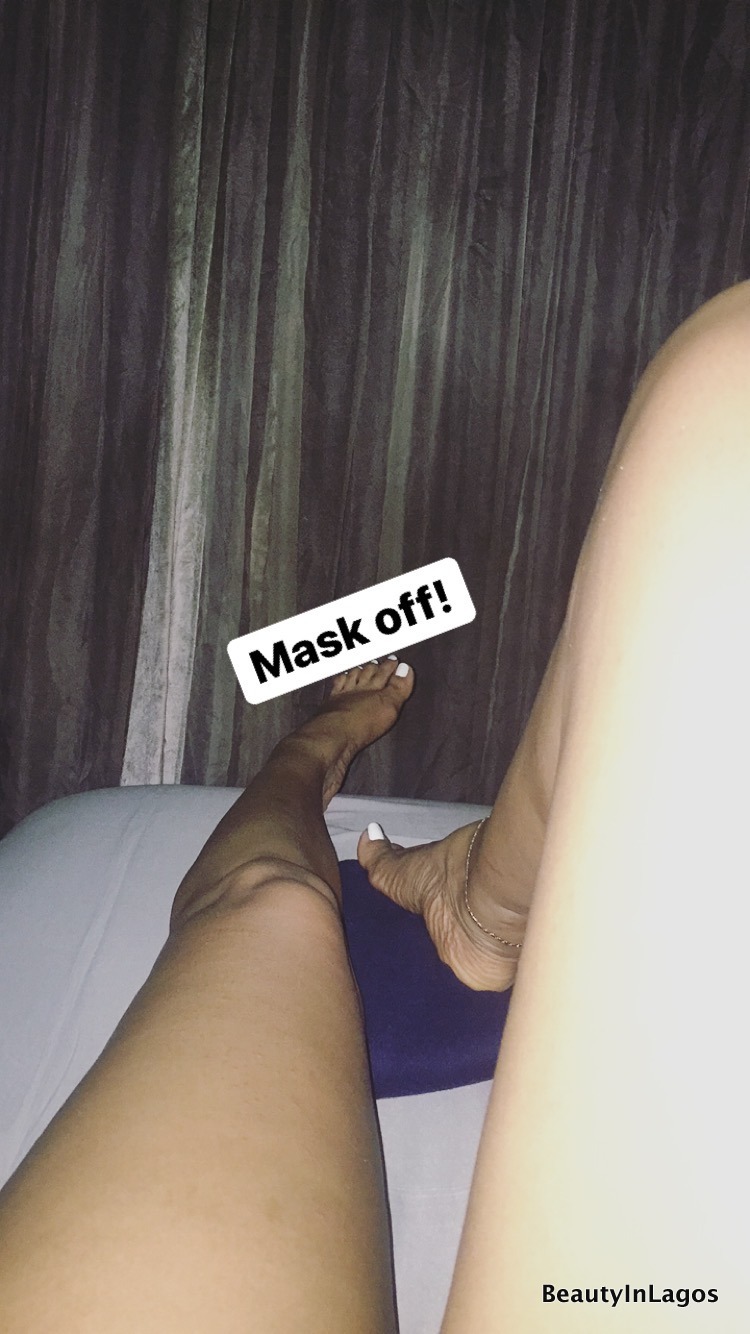 Once we'd rinsed off the scrub, my skin instantly felt softer and I was already satisfied with the results, but there was more. We were asked to get back on the bed, a fresh clear plastic sheet had now replaced the old one. The therapist asked us to sit up, and then the mask was applied. Very warm, wasn't expecting it to be warm, so that jolted me a bit but the temperature was just right. The mask was applied just like the scrub, from the neck down to the soles of the feet. And we were once again wrapped in the clear plastic sheet, but this time we were left for 20mins. I could feel myself sweating and the therapist said that exactly what was supposed to happen, riding my body of toxins. The mask mix included clay & seaweed amongst other things. After the 20mins was up, we were asked to rinse off and that was followed by an EXTREMELY relaxing 30min warm oil massage. It was so good, Chi fell asleep. Like asleep asleep, her therapist spent a few seconds trying to get her to wake up.
From the smiles on our faces I don't think you really need to know what we thought about the experience. But I'll tell you anyway, it was AMAZING! My skin felt super soft! You don't understand, by far the BEST spa experience I have EVER had in Lagos and I am honestly not just saying that.
---
DISCOUNT OFFER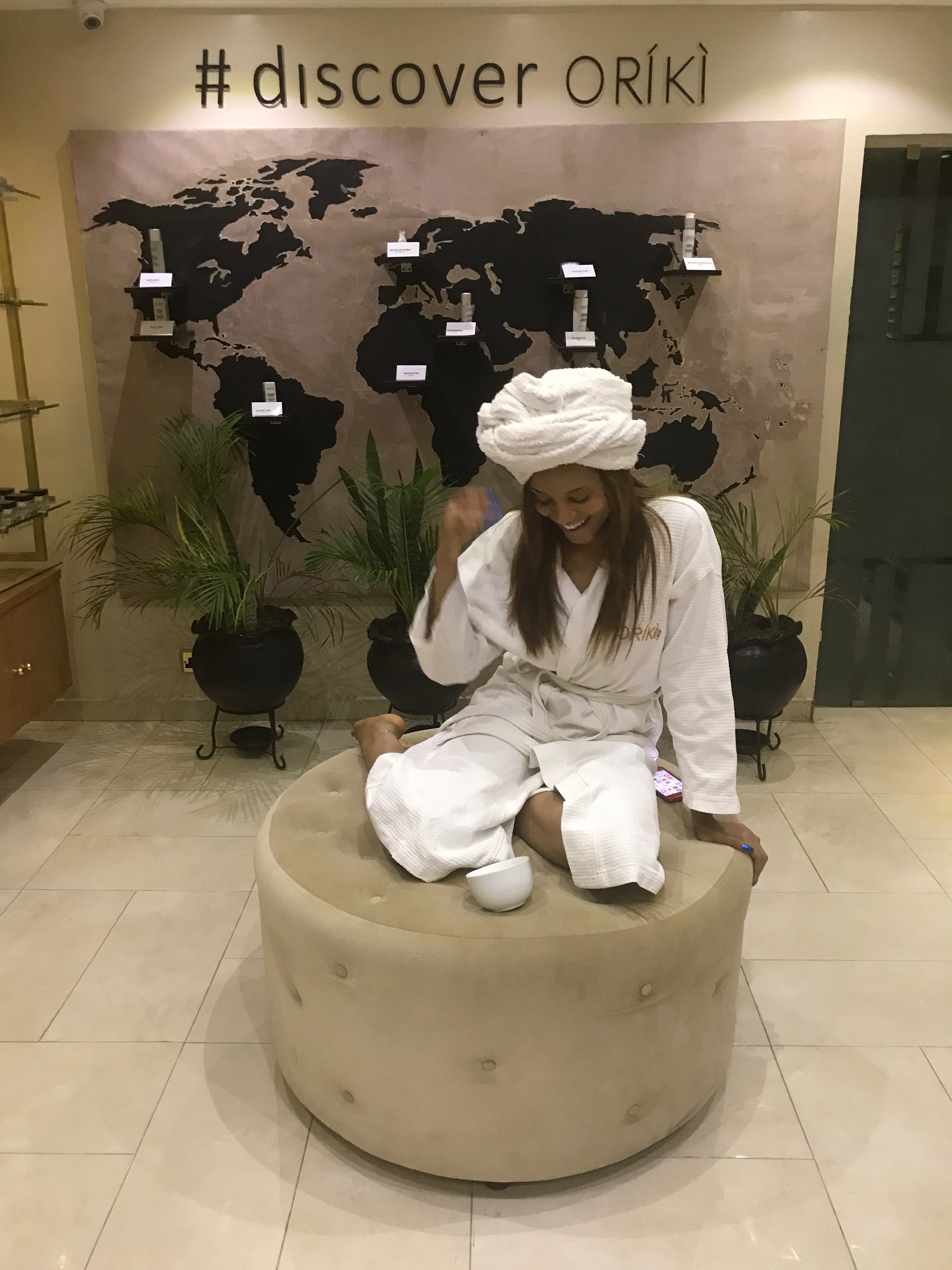 I don't just want to tell you guys about my time at Oriki, I also want you to experience it for yourselves.
Oriki kindly obliged to offer BiL Readers & Followers 30% off their 'Triple Delight' treatment.
Oriki Price: N21,000
So if you would like to redeem this offer, simply click here to purchase a voucher! Please take note of the voucher validity and make sure you redeem your treatment before it expires.