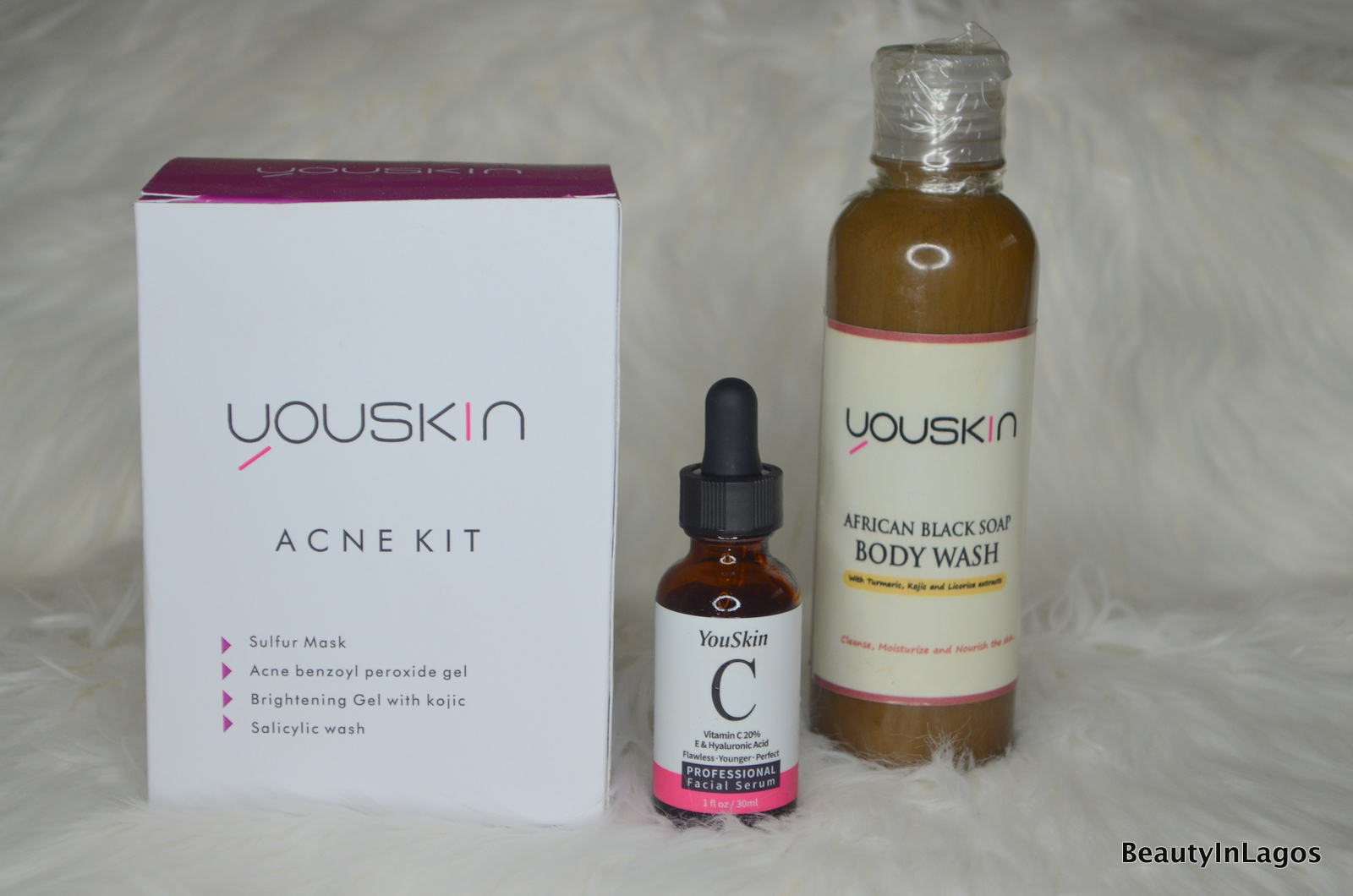 YouSkin is one of the few Nigerian skincare brands that's dedicated to formulating and retailing performance skincare products. If you have no idea what I mean by 'Performance Products', just read this post here. YouSkin is actually the in-house brand by beauty retailer Youtopia Beauty. I shared about Youtopia Beauty here on the blog in a previous 'Out and About' post, which you can catch-up on here.
YouSkin recently expanded their product line by adding new products to their range and I thought to highlight and share a couple that caught my attention.
---
YOUSKIN ACNE KIT
If you've got Acne-prone skin this kit is definitely for you. When I saw this Acne Kit I thought what an absolutely GENIUS idea! You've got a Face wash, mask, spot treatment and brightening gel (for acne scarring). I especially love that they included a brightening gel in there. Whenever I get a spot or breakout, the one thing that nags me the most are the scars that take FOREVER to fade. At the moment, all products are sold exclusively in the kit and I'm secretly hoping they eventually decide to retail each product separately, because I would definitely get the Spot treatment (Acne Benzoyl Peroxide Gel) and the Brightening Gel…. fingers-crossed.
---
YOUSKIN VITAMIN C SERUM
This might quite possibly be the most affordable Vitamin C serum currently available in Nigeria. YouSkin decided to include an affordable Vitamin C serum as part of their product line because they believe it should be a staple in everyone's routine, especially if you live in Nigeria; the Sun out here is NO JOKE. Including a Vitamin C treatment will be super beneficial, it acts as a barrier for the skin and even strengthens the effect of whatever sunscreen you use on your face. Other benefits include:
Anti-Aging because it slows down age-related degradation of Collagen in the skin
Improves the appearance of pigmentation
Reduction in skin impurities
This YouSkin Vitamin C Serum also contains Niacinamide, a form of B3, which helps with uneven skintone, reduces the appearance of enlarged pores and beneficial for acne-prone skin.
For just 5K that's one super-packed Vitamin C serum, so cheaper doesn't necessarily mean less effective. I am currently trying this out myself and will update you all with a full review in about 4-6weeks.
One thing to note is that if you have any Vitamin C serum/treatment you should store it in a cool, dry and dark place; if you live in Nigerian that means a fridge! Yes, I keep my serum in the fridge.
If you aren't sure how to use a Vitamin C serum or when to include it in your routine, I would suggest you use it during the day and as the first step in your routine after you've cleansed your face.
Here's what YouSkin advices on their website:
We suggest doing a Patch Test on a small area of skin on your neck to make sure the formula is a good fit for you.
If the serum is compatible with your skin, start by applying 3-5 drops of Vitamin C-Serum followed by your moisturizer once daily.
Before applying, the skin must be thoroughly and gently cleaned. The best solution is to apply the serum with clean fingers or better with a cotton pad.
If you are using a vitamin C serum for the first time, we recommend applying 1-2 times a day.
In the beginning, a thin layer of the serum should be applied so that the skin can get used to the vitamin C. The serum takes about 15 minutes until it is optimally absorbed into the skin.
Available on #ShopBiL: click here
---
YOUSKIN AFRICAN BLACK SOAP BODY WASH
I LOVE how this smells and the fact that it lathers up really well! One squirt is all I need for my entire body, so this bottle should last about a month. I am currently using this every single day so I will get back to you on how long it really lasts and will also do a full proper review. But so far, there's zero complaints from me!
Available on #ShopBiL: click here
All in all, great product releases from YouSkin. This is definitely one Nigerian skincare brand I will be keeping tabs on to see what they come out with next.
---
Details
30-Day Acne Kit: N33,000
Vitamin C Serum: N5,000 (Available on #ShopBiL)