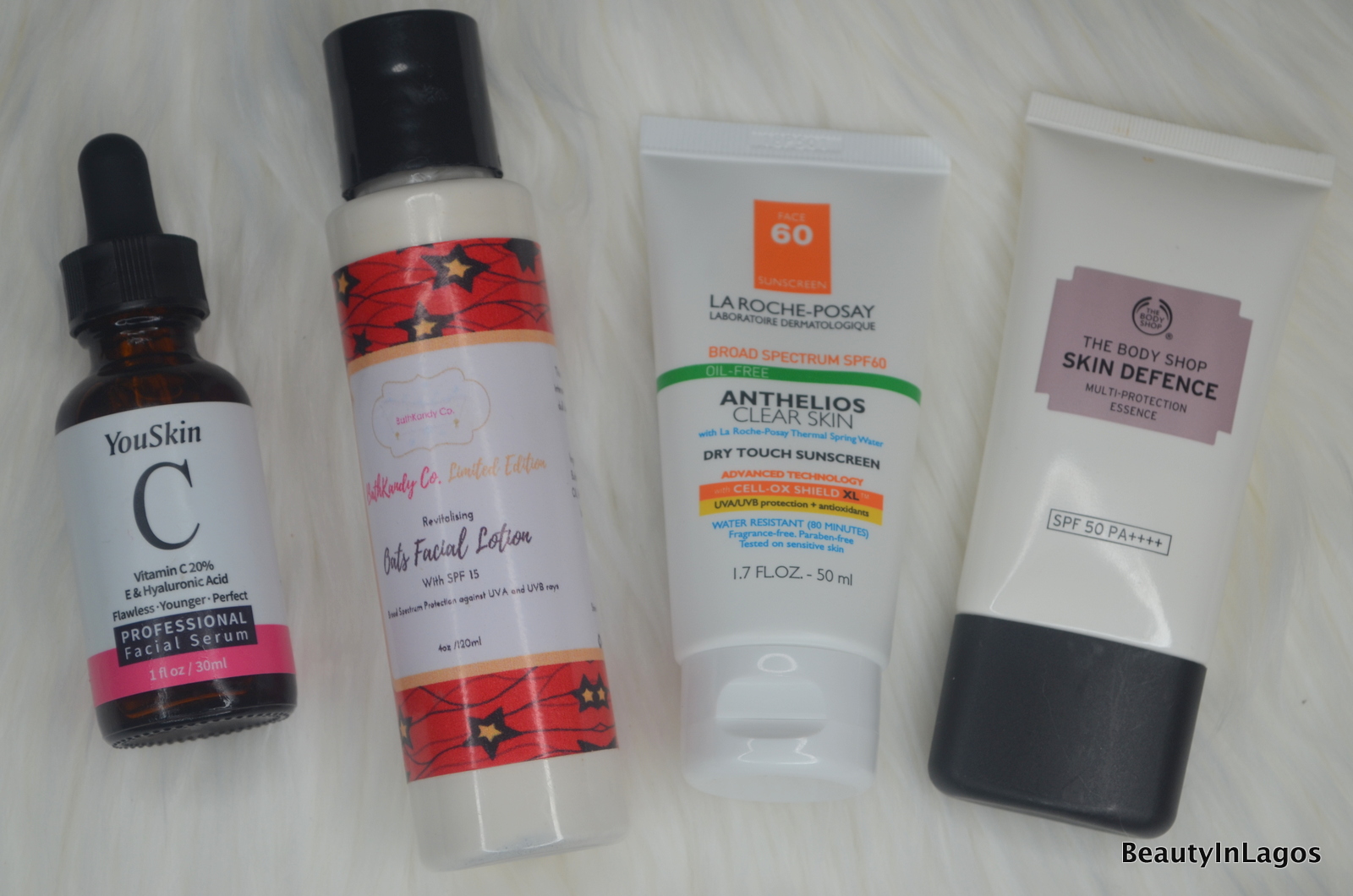 For me, an indication that I may be neglecting my skin is when I start to get tiny rash-like pimples between my brows just right above the bridge of my nose. They aren't very visible or even painful, but when I run my finger along that area I feel the bumps.
Ok, so let me back-track a bit and tell you how I typically work this skincare routine thing, one minute I am so consistent and then before I know it I am slacking. Like I will do the bare minimum, apply sunscreen during the day and ensure I take my makeup off and wash my face (cleanse) at night. But when I stop doing the bare minimum, and indulge in actually using the products I have, consistently, there is a remarkable difference. So why don't I just maintain the consistency you ask? Beats me bro, ain't got a clue! lol.
And then when I notice the indicator (rash-like pimples) that I am neglecting my skin I then try to use everything at once, but that doesn't work. I literally have to 'ease' myself into the routine.
With skincare, consistency is key and the products you use are super-important. Unless you actually really enjoy it, you will need to make a conscious effort to get a proper routine in and your daytime routine is just as important as the night-time. Whilst I was getting my nighttime skincare routine in, I thought to share some staple products that I use currently, and a couple new ones I am trying out. I find I am more comfortable introducing a new product to my regimen only after I have been consistent with my routine and my skin is at its best, that way when I introduce a new product and perhaps get an adverse reaction, immediately I know to stop; or if I see a noticeable improvement, then it's a keeper.
This post will not be a complete full breakdown of my entire skincare routine, like I said I am just sharing some products I am using right now as part of my day-time routine. For my full step-by-step routine, click here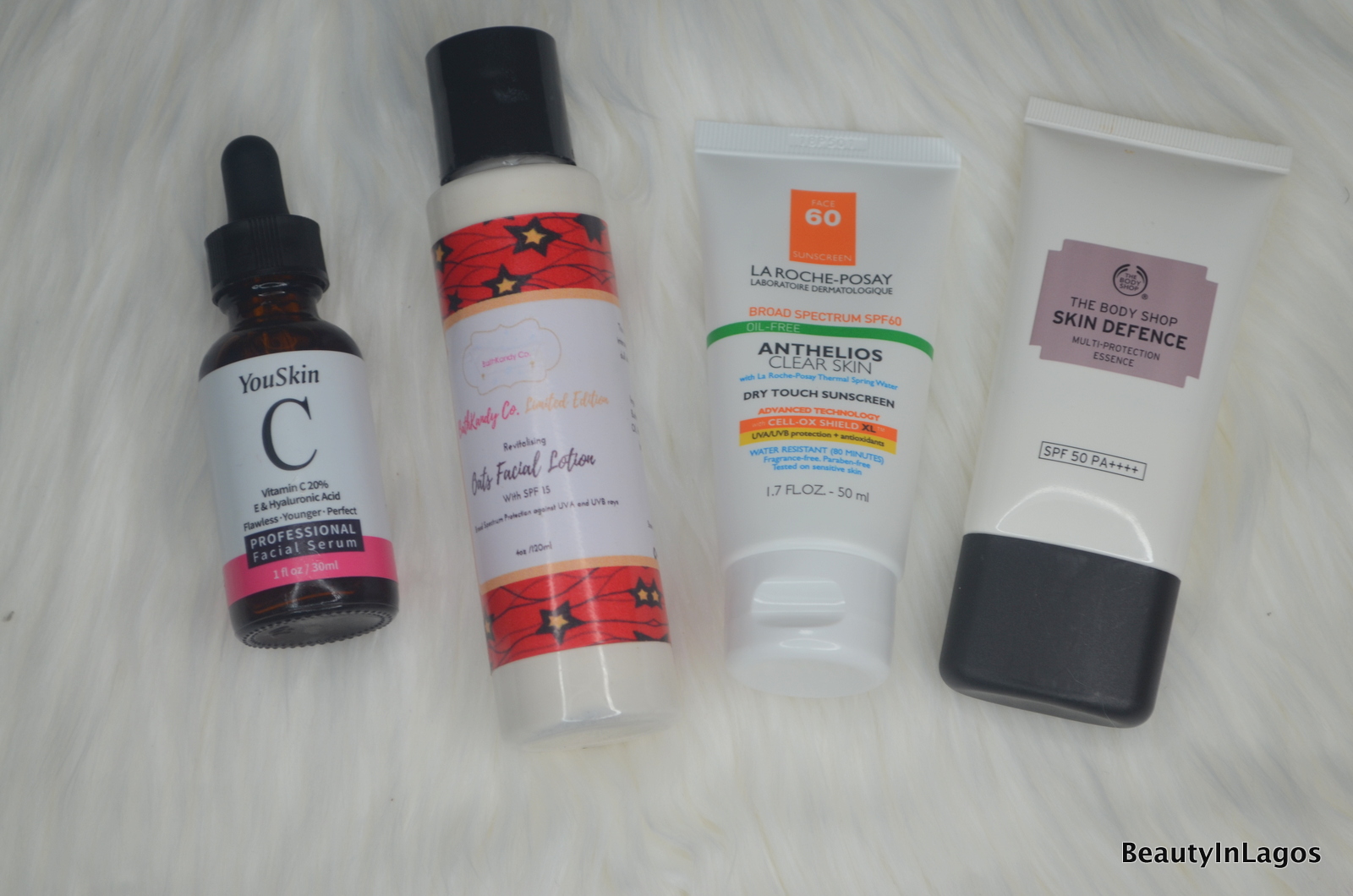 Listen, I don't play with this Sun out here and people think it's about 'maintaining the yellow'… it's not that, trust me I love a good tan, its moreso about the effects of sun-damage (aging sking, wrinkles, skin cancer). I literally RUN when I have to walk in the Sun, it's comical, people think I am mad, but they'll be alright. I know a friend of a friend that walks around with a big Sun Hat from The Weave Hat Company, I think I'm going to have to get one too!
Ok, back to these products. You already know about Vitamin C serum, this is key, it actually aids the efficacy of your sunscreen. So I apply it first, then followed by my face cream which is one by Bath Kandy. It's from their Glow-Up Box which I reviewed in a previous post last year. I actually only recently started using it consistently, and I already love it! It absorbs right into the skin with a matte finish! I was pleasantly surprised by this and with all the added skin-benefits, including SPF15, it's definitely ticking all the boxes for me right now (for full list of ingredients, click here). I plan on doing a full detailed review of this in a couple weeks, so look out for that. And lastly I follow-up with my beloved sunscreen, yes I've got two! One is SPF50 and the other is SPF60. No I don't use both at the same time, I just alternate between the two, it's always good to have options.
Some people might ask, why do I need sunscreen, when my face cream already has SPF in it? Because when it comes to skincare products they are usually formulated to target certain skin conditions. For example, if I purchased a face cream that targets adding moisture to the skin, but has SPF. Best believe the main active ingredients in that will be for 'moisture' and NOT sun-protection. It will have the SPF, but that's not why it was formulated. But a sunscreen is formulated primarily to protect your skin from the sun and it's numerous side-effects. So, just because your face cream has got SPF in it, doesn't mean you shouldn't apply sunscreen to your face.
Vitamin C Serum N5,000 – click to buy
Oats Facial Lotion SPF15 N9,000 (on sale) Bath Kandy 'Glow-Up Box' – click to buy
Body Shop Skin Defence SPF50 N10,000  (on sale) – click to buy
La Roche-Posay Sunscreen SPF60 N13,000 – click to buy
These are just the products I currently use as part of my day-time routine, in part two I will share the products I use at night.
Part Two will be up on Friday (23rd March), so make sure you come back to check it out and, just like this post, I will include direct links to purchase all the products I mention.