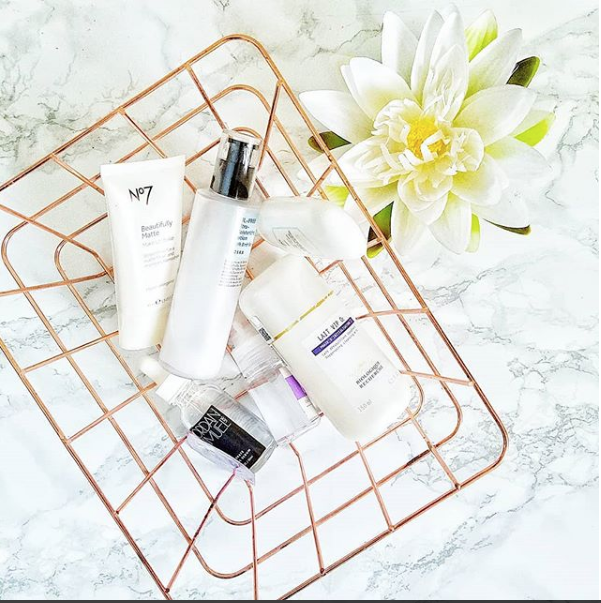 As promised, here is the 2nd part of the series on building your own routine. If you missed the first part, I strongly suggest you read that first before continuing with this post.  You can read it here.
This post is super detailed so  get comfortable, grab a glass of wine or a cup of tea and enjoy!
MORNING ROUTINE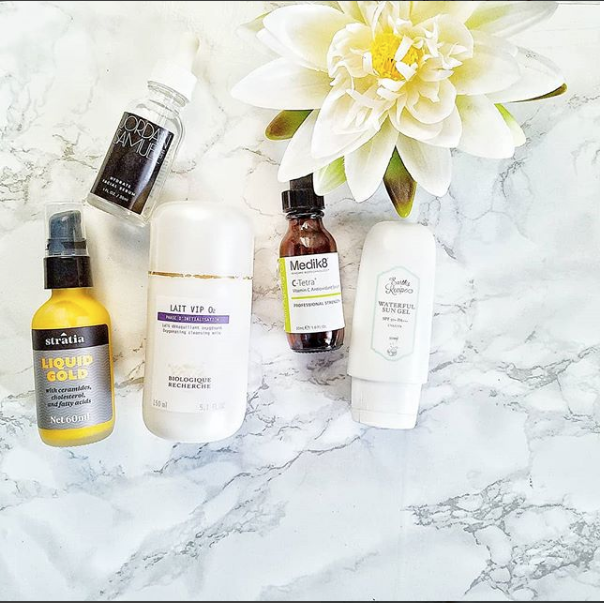 Whatever your skin type is, you need to wash your face in the morning.….EVERY MORNING. Your skincare routine can be as simple or elaborate as you want it but over the years I have come to realize I get the best results from simple routines
The steps in any morning routine should be pretty simple and straightforward: Cleanse, Tone, Treat, Moisturize and Protect.
Step 1: Cleanse.
This is the most important part of any routine as a clean canvas is needed for products to perform their magic. You need a gel cleanser (oily skin) or a cream cleanser (dry skin). Combination skin can use any of the two. Apply to dry skin, massage in gently and rinse off with lukewarm water.
Step 2: Toner.
It is okay to skip this step if you want a very minimal routine but I wouldn't. Toners are meant to restore the pH balance of your skin. Your toner may be an acid toner (do not panic – this is glycolic, lactic or salicylic acid, not battery water…LOL) or a hydrating toner
Step 3: Treat.
Also important and I believe this is where your money should go in your routine. No point in buying an expensive cleanser that you rinse off. You can use a vitamin C serum to provide your skin with antioxidants and also help with hyperpigmentation. You can also decide to use a hydrating serum or a niacinamide serum or a combination.
Step 4: Moisturise.
A lightweight moisturiser, suitable for your skin type
Step 5:Protect.
Sunscreen is NON-NEGOTIABLE regardless of the weather or your skin tone. I know you are worried about the white cast but there are loads of sunscreens that do not leave a white cast. The BodyShop Skin Defense, Eucerin Oil Control Sun Gel Crème, Neutrogena Ultra Sheer, Zein Obagi, Earth's Recipe, Laroche Posay etc. Don't forget to apply 15 minutes before you go in the sun and reapply every 2 hours.
*some people may wish to combine steps 4 and 5. Opt for a moisturizing sunscreen rather than a moisturiser with sunscreen. Eucerin Oil Control is a great option.
EVENING ROUTINE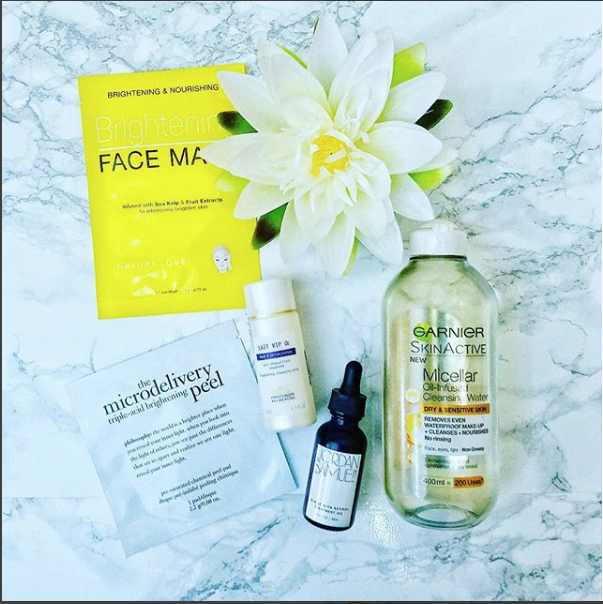 The day is over and you are home, wig off, bra off, shoes tossed aside. ….you need to wash your face. I understand you have had a long day, been in traffic etc but Lagos is such a polluted city, your phone has been on your ears most of the day, sweat ….do I need to go on?
Start by washing your hands. This is very important. You shouldn't take dirty hands to your face. If you wore make up, you have to double cleanse which is basically taking off your make up with a designated make up remover and following with your regular cleanser.
Step 1a: 1st Cleanse.
Gently take off your eye and lip make up with a make-up remover and cotton pad. I particularly love the Garnier Oil infused Micellar Water for this purpose. Then sweep another cotton pad all over your face to remove the rest of your make up or sunscreen. Alternatively, you can use cleansing oil or cleansing balm. The Clinique Take The Day Off Cleansing balm, Heimish All Clean Balm or the BodyShop Chamomile Cleansing Oil are all great options. Personally, I don't like wipes but if you have to, then use wipes.
Step 1b: 2nd Cleanse.
Go in with your usual cleanser. It could be the same one you used in the morning or a different one. It is totally up to you. I have at least 3 cleansers in rotation.
Step 2: Tone.
Same as the morning routine (you may skip an acid toner if you are using retin A or Differin as it may be too much for your skin especially if you use Biologique Recherche P50).
Step 3: Treat.
Retinol, Retin A, Differin, hydrating serum, glycolic acid serum. It all depends on your skin concerns. If you are 25 and older, I would highly suggest adding retinol to your routine. With retinol ….start slow, ease into it and with Retin A and Differin…make sure you need it before you buy it as it is available here without a prescription.
Step 4: Moisturise.
If you are like me and you sometimes get dry after using retinol or retin A, wait 30 minutes and follow with a moisturiser or a facial oil.
Points to Note
See a Dermatologist or Esthetician, especially if you have acne. You may need medication or treatments no YouTuber, Blogger (myself included) or friend can provide.
Always remember to tailor your routine to your skincare needs, you can't keep tackling hyperpigmentation and forget about hydration even when your skin is dehydrated.
Pay attention to your skin, be consistent, be patient and you will get results.
That's it!
Hope you enjoyed reading the series. Feel free to tag me in pictures of routines you were able to build yourself.