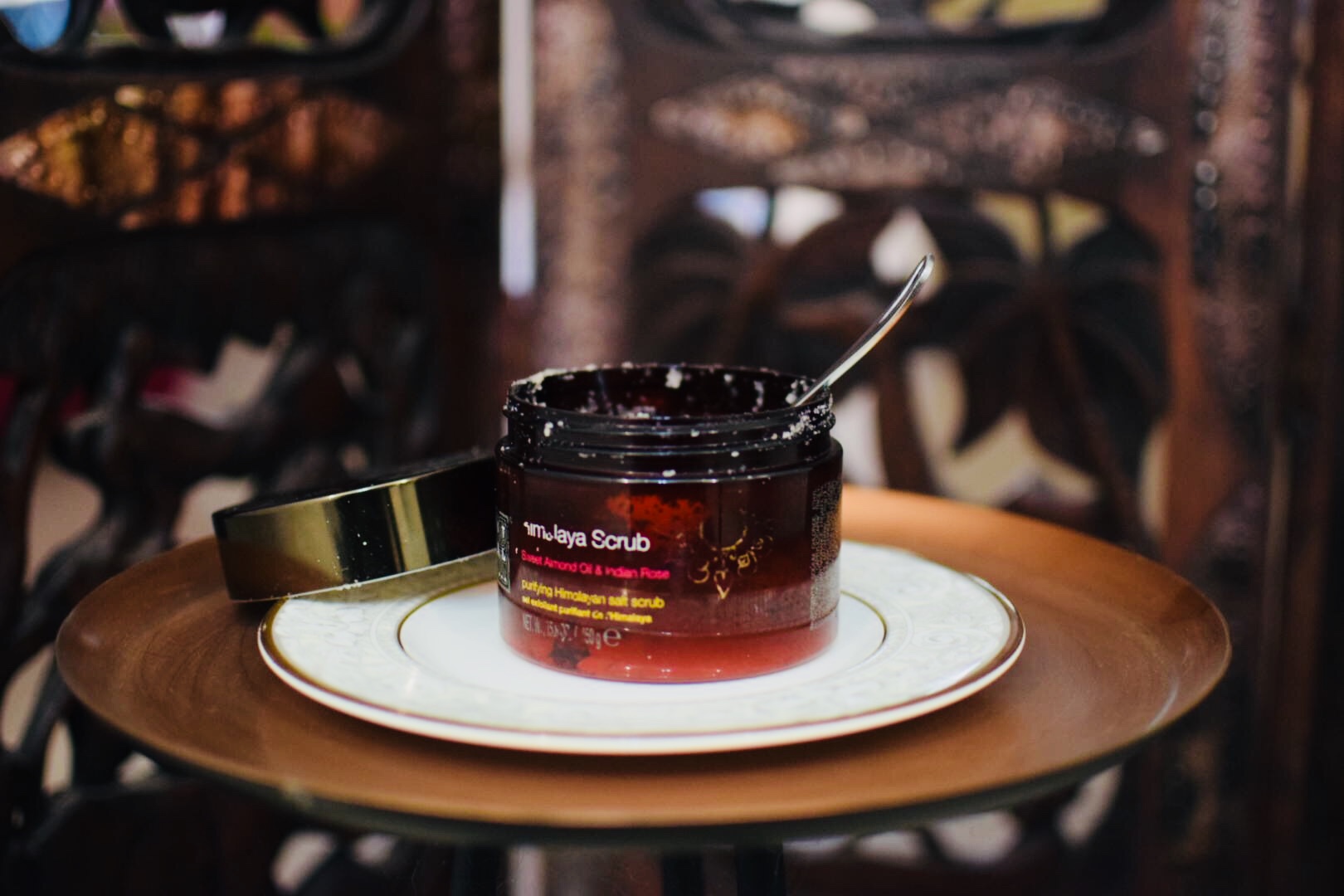 At any given time, I have about 10-15 different salts on rotation in my kitchen salt collection but there are some that are permanent staples, no matter what, and Pink Himalayan Salt is one of those staples due to its health benefits. The pink colour comes from over 80 trace minerals including calcium, potasium, magnesium and iron. It is one of the purest salts in existence. I was drawn to this scrub because while I have used salt scrubs before, I wanted to see whether the benefits of this wonder pink salt would be evident on my skin.  Let me just confess that I am on my third tub of this. I don't remember how I discovered it, but I do know that I don't want to run out, ever. 
How I use:
This scrub is an evening affair for me. I shower as usual, rinse, and then buff this onto my body with my hands, do a final rinse and go. Other times, I rub this onto damp skin and then soak in a nice hot bath for 30 minutes. On occasion, I mix a pinch of the scrub with my face wash to purify and deep clean my face before slathering on a face mask. 
Results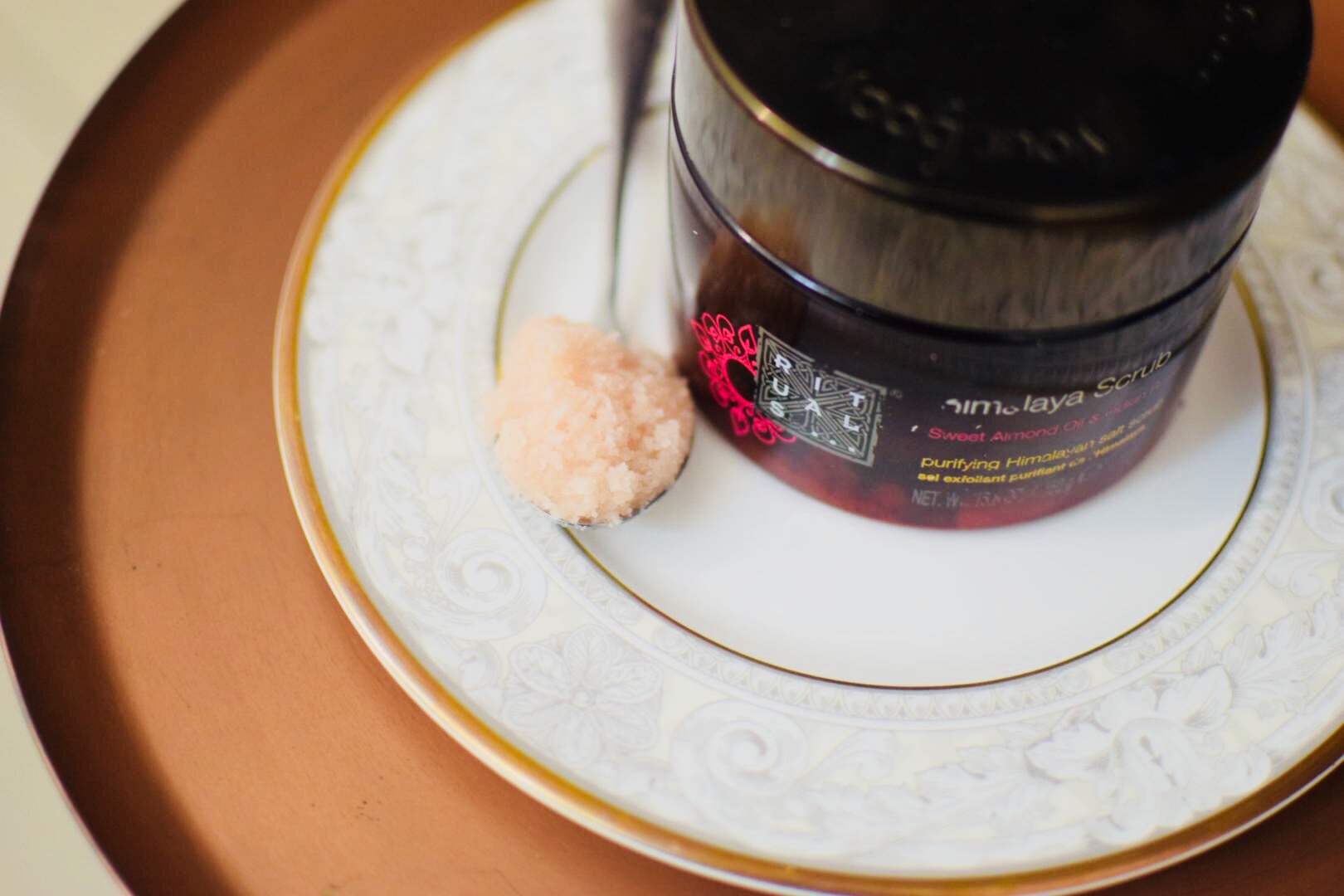 This scrub is pink and grainy as you would expect from a salt scrub. Apart from the pretty colour, the smell is amazing and it leaves a little bit of a minty cooling tingle on your skin. They are not lying when they say it purifies and gives you inner balance. I really do feel completely renewed when I use this, which is why I save it for stressful days when I need something to calm me down or lift my spirits or scrub away stress. The smell, the feel, and the ingredients work well together in this product.
Pros:
Top notch fragrance notes – unlike some other scrubs on the market which smell too sweet cloying, this has a plush, rose fragrance which feels rich, authentic and hella sexy.

Super moisturising – this scrub is packed with natural oils which themselves are beneficial to the skin such as peach, almond, coconut, macadamia, olive and jojoba oils. After this scrub, there is no need to moisturise your skin as it leaves you supple and soft. You can if you want to, (and there is a matching body butter from Rituals which intensifies the experience) but I find I don't really need to. An exfoliating product that also cares for my dry skin is a win for me.
Generous size – this tub lasts me ages. Admittedly I save this for when I need a big dose of TLC. That said, I have had my current tub 6 months and still have enough a couple more sessions.
Exfoliation intensity – I have tried a fair few scrubs in my time and have decided that I prefer salt and/or sugar scrubs for my body because they are more effective without damaging my skin. Wax bead scrubs are nice but too soft and don't do much. Walnut shells are alright but they tend to be a bit too abrasive and scratchy. This scrub gives me the right amount of exfoliation.
Cons:
A little bit of waste-age – I mentioned the scrub texture being grainy and this is because it is made with many natural ingredients. While it is great that there are no synthetic waxes in it (like there are in other scrubs) I find it is best to use it on damp skin. Otherwise it falls off into the bath tub and wastes, which can be annoying. 
---
Ingredients: Sodium Chloride, Ethylhexyl Stearate, Caprylic/Capric Triglyceride, Parfum/Fragrance, Argania Spinosa (Kernel) Oil, Macadamia Integrifolia Seed Oil, Simmondsia Chinensis (Jojoba Seed) Oil, Prunus Persica (Peach) Kernel Oil, Olea Europaea (Olive Fruit) Oil, Helianthus Annuus (Sunflower) Seed Oil, Mentha Piperita (Peppermint) Oil, Rosa Centifolia Extract, Prunus Amygdalus Dulcis (Sweet Almond) Oil, Menthol, Tocopherol, Isopropyl Myristate, Benzyl Benzoate, Citronellol, Coumarin, Hexyl Cinnamal, Linalool, Butylphenyl Methylpropional, Limonene.
Product Claims: A purifying body scrub that contains ancient crystal salt from the Himalayas, which has a purifying and harmonising effect for inner balance and vitality. This purifying scrub leaves an intensely soothing thin layer of oil on your skin. Enriched with the delightful aroma of Indian Rose and the soothing effects of Sweet Almond Oil. According to traditional Ayurvedic science, scrubbing is a highly effective way of purifying your body and of stimulating the flow of energy. This process is enhanced when taking a warm bath.
Minjiba is a creative African food blogger, TV cook and content creator based in Lagos and her cooking show 'Minjiba Entertains' airs weekly on The Africa Channel in the US & the Caribbean. In addition to developing exciting recipes from local ingredients, she is a sworn skincare addict and loves to explore products that use active food ingredients.
You can find her:
Instagram: @minjibacookey
Twitter: @minjibacookey
Website: www.minjibacookey.com