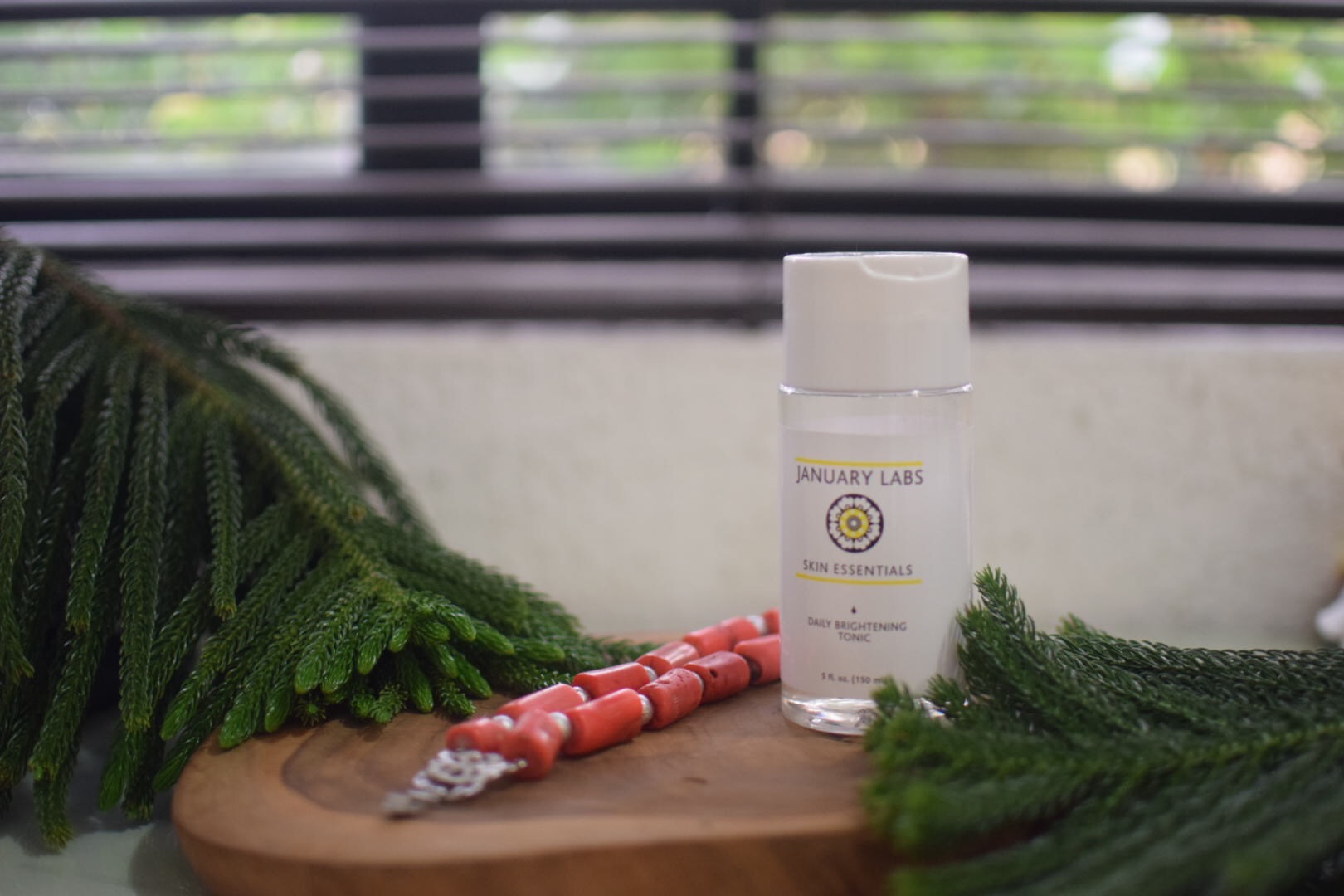 Ingredients: Water, Aloe, Lactic Acid, Lemon Peel Extract, Orange Fruit Extract, Apple Fruit Extract, Witch Hazel, Organic sugar, Black Tea Leaf Extract, Oat Kernel Extract, Sodium PCA, Organic Chamomile Extract, Glycerin, Clary Extract
Product Claims:
This all-in-one toning treatment exfoliates and hydrates your skin while stimulating collagen production. It is specially formulated to strengthen the skin and regulate proper pH balance to reveal a smooth, healthy glow. Our newest tonic helps to build and protect your Essential Stratum BarrierSM and enables your skin to be at its best by ensuring cell turnover and rejuvenation.
---
Look and feel
It is completely clear with a mild, pleasant smell. It almost looks like water. On the skin it is cooling and soothing. If you are (like I was) used to toners that leave your skin feeling stretched and taut, this will surprise you based on how hydrating it is. Sometimes, if I haven't used it for a few days, it tingles slightly when I put it on, as though it is eating up all the junk that accumulated in its absence. This pleases me greatly.
How I use this
I use this after cleansing and before moisturising. I either pour a small amount onto a cotton pad and sweep over my face and neck or I splash it into my palm and press it onto my face directly. Sometimes, when I want a heavier dose of acids/chemical exfoliation, I use this as a second toner, after I have first toned with my Pixi Glow Tonic.
Formulation
I find it so intriguing that a product in which almost all the ingredients could be food, is also so effective on the skin.
Take aloe, which aids digestion and alkalises the body. In this toner it heals and soothes stressed out skin.
Or lactic acid which is predominantly found in dairy products like yoghurt; in this product it improves skins texture and hydrates like a dream. If you have acne scarring, this ingredient is what does the heavy lifting to smoothen you out.
Glycerin which is used in baking to add moisture to some cake and fondant icing recipes, does the exact same thing here and encourages skin to attract moisture from the atmosphere and subsequent products.
How about the organic sugar? Rather than just a sweetener in our coffee, in this formulation it encourages the skin to shed its dead cells for a glowy, brightening effect. Almost like a sugar scrub but in liquid form!
And then finally, the fruit teas and extracts do exactly the same thing they do in the body – fight oxidative stress and rascally free radicals that cause faster ageing.
Results
Sometime last year, I realised that my beloved Clinique and I had to part ways after many happy years together. Thankfully, my skin remained reasonably clear through my pregnancy, but I have had to come to terms with the fact that the needs of 30+ are different. It was time to find a new crop of cleaner, more nuanced, and more effective toners. Enter January Labs Daily Brightening Tonic, stage left.
This toner is deceptively simple. The ingredient list reads like something you might expect to find on a new superfood health drink rather than on a beauty product. However it is definitely a chemical exfoliating toner, albeit a mild one, employing AHAs (alpha hydroxy acids). AHAs dissolve the cellular glue that sticks dead skin cells together.
At first I thought it wasn't doing much, until I stopped using it and found that my brightness was backsliding. I never, ever, ever want to lighten my naturally dark skin, but I do want to make sure that I keep it healthy, radiant and glowing to the gods.
Verdict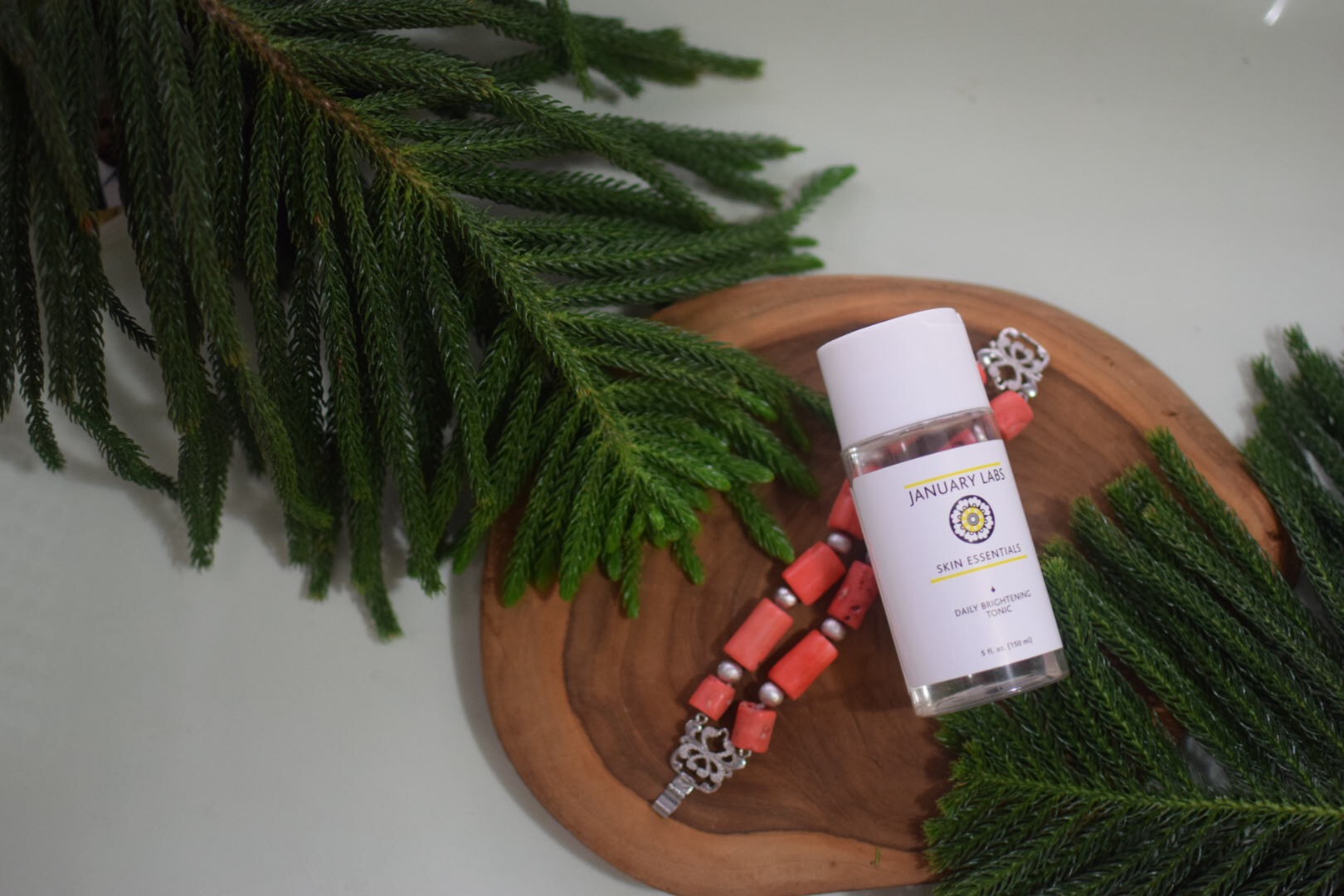 I have enjoyed using this toner. I do suspect sometimes that my skin starts to get used to it, so I like to give it a break periodically so as to keep it effective.
I absolutely love the fact that the ingredient list is so minimalist. Not a nasty colour, filler, fragrance or preservative in sight. Everything in there is geared toward a specific task for your skin and not for gimmickey marketing. If you are passionate about clean beauty, January Labs is a brand to explore!
The no nonsense packaging (plastic bottle with a flip-up spout) is lightweight and great for travelling. I have never had any spills with this.
---
Will I buy this again? I think so. It definitely has worked well for me; however it is my first exclusively lactic acid toner so I would like to try out a few others to see where this sits among its peers. Stay tuned!
Minjiba is a creative African food blogger, TV cook and content creator based in Lagos and her cooking show 'Minjiba Entertains' airs weekly on The Africa Channel in the US & the Caribbean. In addition to developing exciting recipes from local ingredients, she is a sworn skincare addict and loves to explore products that use active food ingredients.
You can find her:
Instagram: @minjibacookey
Twitter: @minjibacookey
Website: www.minjibacookey.com