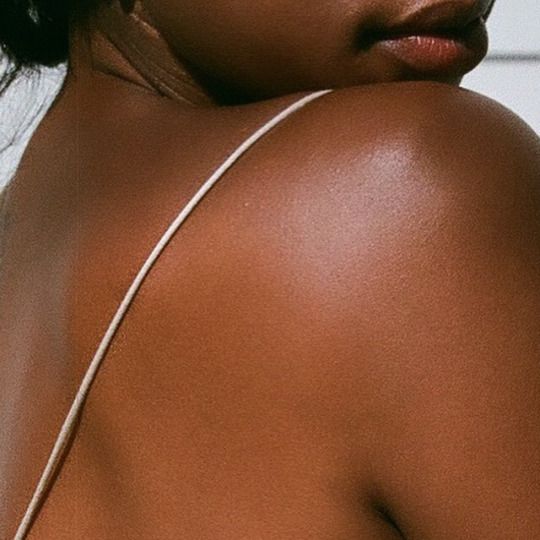 I'm sure you've heard a ton of people talk so much about their face routine that it's almost as if they forget that their body is also skin and should be cared for. That's why I've put this piece together on how you can have naturally glowing and beautiful skin without having to turn to bleaching creams to do the magic.
1. Exfoliate. Honestly, the first guide to naturally glowing skin is exfoliation! There are many ways to exfoliate your body and you can either explore the physical or chemical route. Lately, I've been using viscose mittens which are quite popular among Koreans to slough off dead skin. Only recently did I get to know about dry brushing, which is an excellent way also to physically exfoliate the skin and improve blood circulation. If you're too lazy to do any type of scrubbing at home, there are spas that offer full body scrubs. Alternatively, there are quite a number of body care products that contain AHAs/BHAs which gently removes dead skin cells to reveal smoother, brighter skin.
2. Choose products with skin brightening ingredients. I love to glow, and another thing that aids that, asides exfoliating my body, is using products with natural brightening ingredients like Turmeric, Licorice extract, Papaya, or Lemon. My favorite skin brightening ingredient is Turmeric. I usually love to have them in my body washes as turmeric also helps to fades dark spots on my body. The good thing about these lighteners is that they gradually help to fade discolorations while evening out the skin tone without making you three to four shades lighter like bleaching creams do.
3. Choose body care products with skin-loving ingredients like Shea Butter, Cocoa Butter, Aloe Vera, Cucumber, Vitamin E and plant oils. I especially love Cocoa butter and Vitamin E because they help to even out my skin tone so I reach for body butters & lotions with these two ingredients. Oils also make the skin glow so you could opt for body butters with light oils or just light body oils themselves to keep your skin glowing. I have dry skin on my body and in the colder months of the year, I always mix my body lotion with body butters to keep my skin hydrated for a longer period of time.
4. Choose hydrating bath and body care products. Truth is dull skin is not only skin that isn't exfoliated but also skin that isn't hydrated either. When skin is well hydrated, skin glows from within so look for body lotions and creams that contain ingredients like honey, aloe vera, hyaluronic acid, glycerin, ceramides and squalene that will help maintain your skin's moisture levels.
5. Eat fruits and veggies! As cliché, old and over-flogged as this may sound, taking fruits and veggies will really help your skin glow from the inside out. Fruits and vegetables supply antioxidants and vitamins that help protect our skin from free radicals, help blemishes heal fast and properly and promote radiant skin. They also help to detoxify, regenerate and renew the skin from inside out.
6. Take supplement for beautiful skin; Vitamin supplements are an easy way to help your skin stay healthy and glowing. Some good vitamin supplements to take include Fish oil, which is rich in Omega-3 fatty acids which support collagen growth and promote skin moisture, Zinc and calcium which helps fight wrinkles, keep skin tight, promote cell regeneration and cell growth, evening primrose which smoothens skin, improves its elasticity, moisture and firmness, Probiotic supplements that help to reduce skin conditions like acne, rosacea and eczema to mention a few. Because of the stress associated with having to swallow many tablets, there are actually supplement tablets like well woman which combine all the essential vitamins for good skin and health in one capsule. That way you get to only take fewer tablets.
7. Exercise! Probably another cliché statement but by increasing blood flow, exercising helps nourish our skin cells with nutrients that repair damage from the sun and from environmental pollution. When we work out, our sweat carries toxins to the surface of the skin to be released. More so, exercising encourages the production of the skin's natural oils (although in moderation) which help to grease the skin and made it plum and healthy.
8. Wear Sunscreen: Don't be that person who would religiously wear SPF on the face but leave out their body. I can be very guilty!! Just as you protect your face, it's also super important to protect your body from the harmful effects of the sun. It's really common knowledge that the sun causes sun burn, wrinkles, rapid aging and makes you more predisposed to skin cancer so slather your body as well with SPF 30 or above!