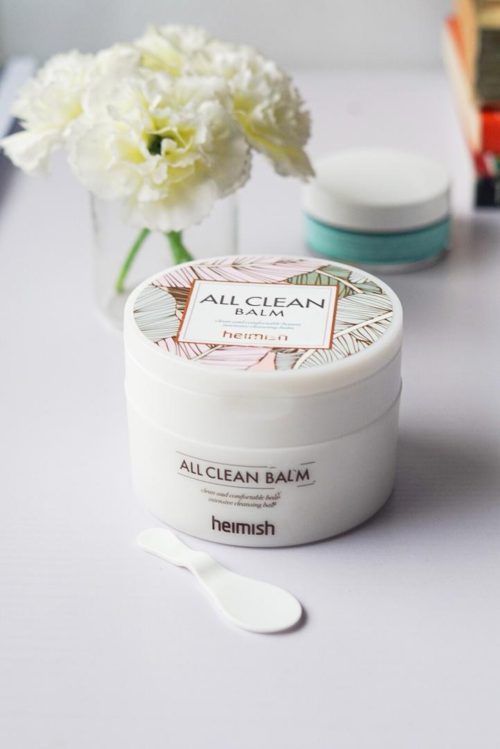 You guys know I've been into Korean skin care for a while now so I picked up the popular k-beauty cult-favorite – Heimish All Clean Balm. There has been a lot said about this product so I decided to give it a go.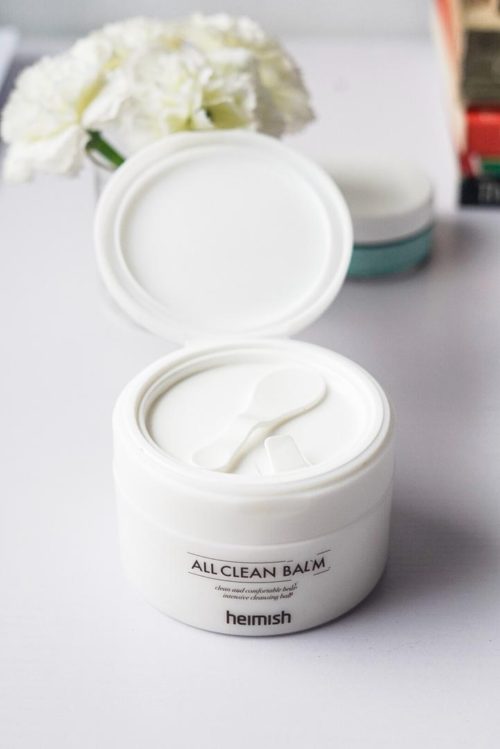 According to Heimish, The Heimish all Clean Balm is a daily cleanser for removing heavy makeup easily. It goes on as a solid balm, transforms into a silky oil cleanser on the skin then becomes milky while rinsing. The soft and lightweight texture effortlessly removes makeup and residue without stripping of skin's natural oils. Formulated with citrus herb oils to naturally brighten and nourish skin. Natural, Paraben-Free and Hypoallergenic! Ideal for all skin types, especially those with sensitive skin.
Its claims are:
Spa Cleanser with natural aroma oils
Natural vegetable ingredients included for deep cleansing
3-step transformer texture (Balm-oil-Milk)
It has key ingredients like:
Shea butter: Moisturizes skin and provides elasticity
Citrus herb oil: Soothes and eases stress
Coconut extract: Softens and conditions skin
White flower complex: Improves skin's balance and tone.
Full ingredients list
Ethylhexyl Palmitate, Cetyl Ethylhexanoate, PEG-20 Glyceryl Triisostearate, Polyethylene, PEG-8 Isostearate, Butyrospermum Parkii (Shea) Butter, Cocos Nucifera (Coconut) Fruit Extract, Citrus Aurantifolia (Lime) Fruit Extract, Freesia Refracta Extract, Iris Versicolor Extract, Jasminum Officinale (Jasmine) Extract, Lilium Tigrinum Extract, Leontopodium Alpinum Extract, Nelumbium Speciosum Flower Extract, Narcissus Pseudo-Narcissus (Daffodil) Flower Extract, Rose Extract, Citrus Aurantium Dulcis (Orange) Peel Oil, Lavandula Angustifolia (Lavender) Oil, Pelargonium Graveolens Flower Oil, Amyris Balsamifera Bark Oil, Citrus Paradisi (Grapefruit) Peel Oil, Eucalyptus Globulus Leaf Oil, Melaleuca Alternifolia (Tea Tree) Leaf Oil, Juniperus Mexicana Oil, Boswellia Carterii Oil, Citrus Aurantium Bergamia (Bergamot) Fruit Oil, Tocopheryl Acetate, 1, 2-Hexanediol.
My Observations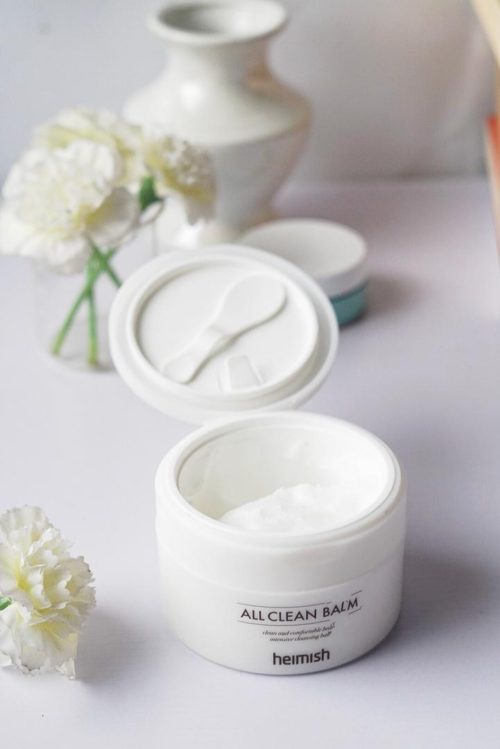 First, the packaging and colors are absolutely beautiful! The pink, brown and green on the white packaging is just adorable! I'm first drawn to try a brand or products with beautiful packaging. I know I'm not the only one. Lol!
It contains 120ml of product so you get above the standard 100ml that most products are. This balm is a white balm which, exactly as Heimish says, changes to an oil when massaged into your skin and then turns milky (emulsifies) when mixed with water. It comes with an inner lid and spatula to scoop up your products. I actually find that most Korean skin care products that are jar-like come with a spatula if you can't pump or squeeze them out.
I like that it's a non-irritating balm as I use it around my eyes and it doesn't irritate them. In my opinion, it's also very ideal for sensitive skin. It works great as a makeup remover and it's very comforting you can use this product around your eyes and lips. Because I'm really big on skin care; I love using this product to double-cleanse! In fact, it's the ideal double-cleanser and I hear quite similar to the Clinique take-the-day-off cleansing balm. I was really really pleased with how soft, relaxing and gentle this balm feels on my skin. I also like that it has a lot of fruit and flowers extracts that help to nourish the skin while cleansing it. Interestingly, it has tea tree leaf oil which is known to have anti-bacteria and anti-inflammatory properties. When I saw this, I was happy and if you're acne prone like me, this will help to somewhat treat your skin before you go into your water-based cleanser. Do I really need to mention it doesn't break me out though? Anyway, it's a myth oil cleansers, made to cleanse your skin (not coconut oil please) would cause you to break out. They are usually made specific for that purpose and they contain ingredients that serve as cleansing agents in them.
That being said, I really love this balm and it's definitely now a staple in my routine!