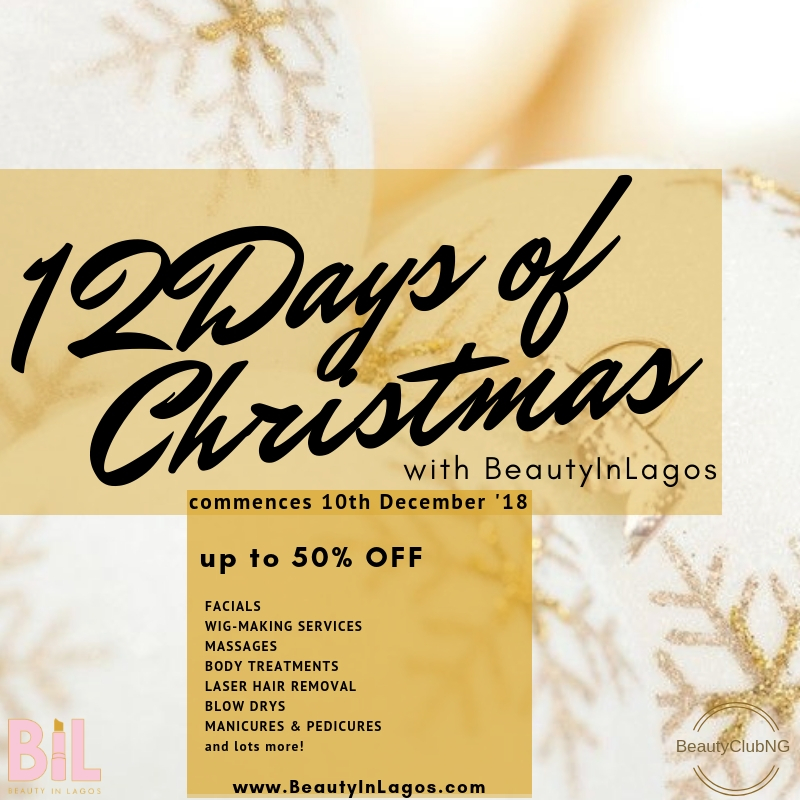 Booked that Facial or Pedicure yet? Or need to gift a loved-one a Massage this holiday season? You might want to hold out until next week! The plan is to make sure you don't pay full price for any Beauty Service this festive period
Yes, you read that right! Every single day for 12days BeautyInLagos will have vouchers to redeem a variety of discounted beauty services by trusted service providers around Lagos.
From Monday 10th December 2018, the 2nd Edition of our '12 Days of XMAS with BiL' is back! Bigger and even BETTER! This time around we've added new service providers and a wider variety of services including:
Blow Drys
Gel Manicures
Facial Treatments
Body Treatments
Pamper Sessions (Massages)
Semi-Permanent Lashes
Manicures & Pedicures
and a whole lot more!
12DAYs of XMAS with BiL runs from Monday 10th – Friday 21st December 2018. As always, our BeautyClubNG subscribers will receive the link to purchase the deal first, before everyone else. And these deals typically sell out fast, so if you still aren't subscribed you can do so by simply filling-out the form below