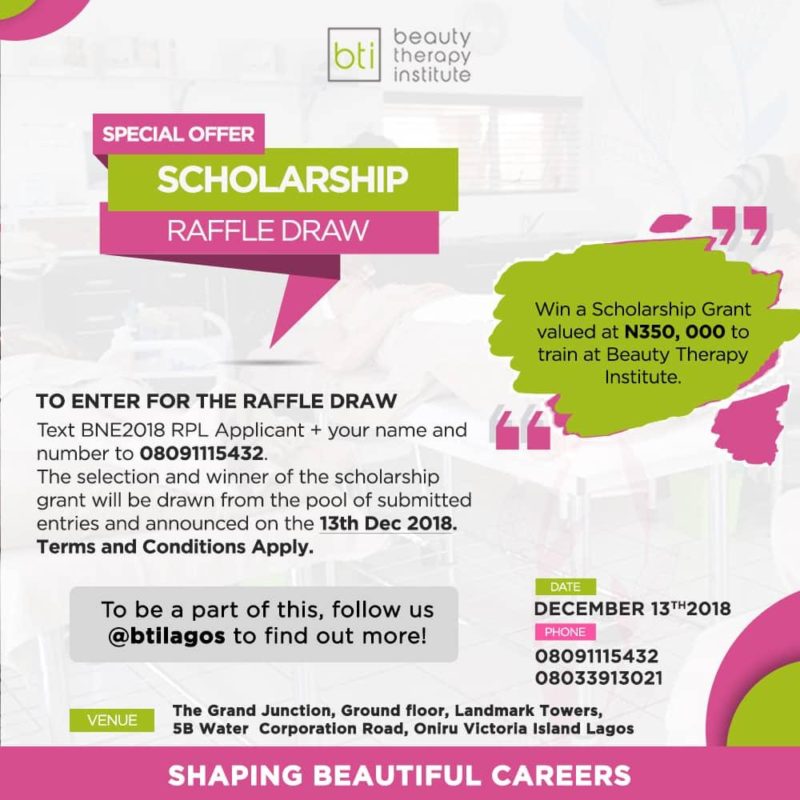 If you've always dreamt of becoming a certified aesthetician, beauty therapist or skincare expert, well here's your chance! Things like this rarely ever come around often, especially here in Nigeria, so this could be quite literally an opportunity of a lifetime! 
The Beauty Therapy Institute (BTi), an accredited beauty institution here in Lagos are giving TWO scholarships worth N350,000 to train at their prestigious beauty school.
The Beauty Therapy Institute (BTi) offers and runs training courses in Health, Beauty & Skincare Therapy. They offer quality assured full and part-time education and training in the latest skill programs, qualifications and standards required for the professional Health, Beauty and Skincare industries. BTi is an African Franchise with a number of campuses around Africa, including one here in Nigeria.
Entry Rules
There really are no rules as this is a lucky dip! All you need to do is send a text to a number and your name will be entered into the raffle draw:
Text 'BNE2018 RPL Applicant + Your Name' to 08091115432
Winners will be announced on the 13th of December, 2018
Goodluck!