If you are into skincare you must have come across the brand Sunday Riley. When I started getting into luxury skincare the name Sunday Riley kept cropping up and the reviews for most products where completely off the chart. The reviews for their Good Genes Lactic Acid Treatment was no exception. I read through all the blogs, beauty websites and it was 5 stars all around.
Now before we get into the review, let me state that this is an expensive product, extremely expensive. That was one of the reasons that I wanted to be sure that it was worth the hype I saw online before actually buying the product. Hopefully by the end of this post you can decide if it is worth it or not.
What Is It?
Good Genes Lactic Acid Treatment is an Alpha Hydroxyl Acid (AHA) with Lactic acid as the main ingredient. It is a chemical exfoliant which promises to exfoliate and clarify the skin making it brighter, smoother as well as reduce the signs of hyperpigmentation. Lactic Acid helps plump the skin, reducing the appearance of fine lines & wrinkles.
How To Use
Since AHAs can cause sun sensitivity, Good Genes is best applied at night on cleansed skin. For best results it's recommended to use between one to two pumps depending on your skin, so start off with one pump.
If your skin is very oily you may be able to get away with using this as both a serum and moisturiser. Personally, the texture was a little too light to serve as a moisturiser so I did follow it up with a moisturiser and face oil. Because it is an AHA make sure to wear sunscreen!!
Results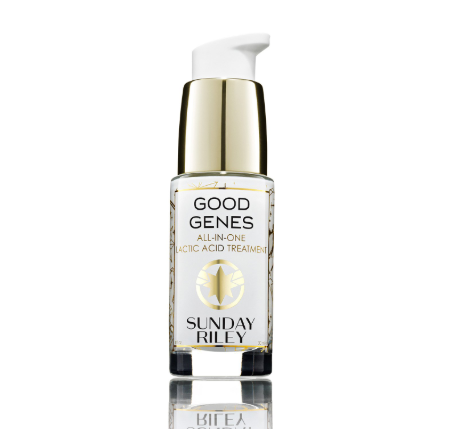 What can I say, Good Genes lived up to the hype. Within a few days of use my skin looked great. It became clearer, brighter with significant evening out of my complexion and reduction in some of my skin texture issues.  My makeup application became much smoother leaving me feeling like I had just left the spa. By the time I had gone through a full bottle of the product my skin looked phenomenal, it was plump, my hyper-pigmentation improved significantly and even completely faded in some areas.
One of the reasons Good Genes works so well is the inclusion of ingredients such as aloe and liquorice. These provide additional skincare benefits and amplify the effect of the primary ingredient -Lactic acid. Forget what anyone tells you there is no dupe for this product, I have tried other lactic acid serums they do not give the same effect. The only downside is its price point, but it does its job so I close my eyes and buy it
Cost
$105 for 30ml
Pros
It comes with a pump which makes it airtight and reduces the likely hood of wastage, a lot of other serums come with droppers which is not my favourite (I have lost product from spills that way).
Does everything it promises – brightens skin, reduces texture , fine line and hyperpigmentation
It does not contain any controversial skincare ingredients, parabens, sulfates, and phthalates which can cause irritation to sensitive skin.
It uses surgical grade ingredients blended with botanicals which results in a potent but soothing formula
Cons
Price it is an expensive product and with daily use will run out pretty quickly
Who is it for?
All skin types but may be irritating for people with skin conditions such as eczema or rosacea.
Rating
Performance: 5/5 – This product is the Holy Grail for me and would be a permanent part of my regimen if it less expensive .it does what it says and you can see results within 3 days max.
Quality: 5/5- Effective ingredients, in a very attractive an luxurious package which may add to the cost.
Value for money: 3/5 – It costs $158 which is significantly more than similar products, however none match its level of effectiveness so who is to say it is not value for money ?
Ease of use: 5/5 – It is extremely easy to use and the pump makes it even easier
Overall rating: 4/5 – My skin loves it but my pocket does not, if you have the funds I would recommend this unequivocally.

Where to buy:
Anywhere skincare is sold, unfortunately I have not been able to locate a Nigerian skincare retailer that stocks it. However here are some alternatives to keep for you to test out until you can get your hands on the product.
Alternatives

Garden of Wisdom Lactic Acid 5% serum
Photo source: Gardenofwisdom.com


Bravura London 10% Lactic acid
Photo source: Bravuralondon.com



The Ordinary Lactic Acid 10% + HA
Photo source: theordinary.com


The Ordinary Lactic Acid 5% + HA 2%
Photo source: theordinary.com
The Ordinary Lactic Acid 5% + HA 2%   £5.50 /N6000
The Ordinary Lactic Acid 10% + HA  £5.50 N 6000
Garden of Wisdom Lactic Acid 5% serum   £9
Bravura London 10% Lactic acid    £9.59
---
If you're after skincare products, you should checkout our listed Skincare Retailers: BeautyDirectoryNG
Chizo is a skincare and makeup enthusiast who likes to travel and explore new places. When not working, she is browsing skin care and beauty sites looking to try new products or binge-watching series online.
You can find her:
Instagram @BeautyHarbour
Website: www.beautyharbour.com