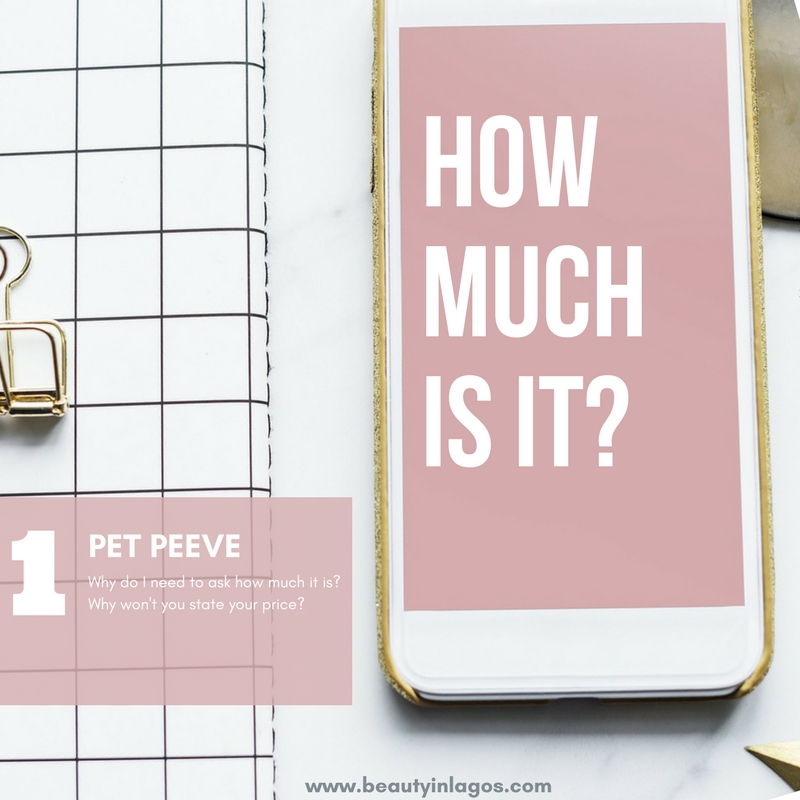 I have never understood why, for the life of me, a Beauty Retailer on social media will upload an image of a product they have for sale and then request that you send them a DM (Direct Message/Private Message) to request the price.
My experience as a Beauty Blogger has taught me that we live in an age where people want what they want, and they want it now.. INSTANT GRATIFICATION. The moment they see something that catches their eye it's best to satisfy them immediately, otherwise you lose them; that's the reality. I'd had interactions with a few people and the feedback was always the same: "I would much rather prefer they stated their prices".  So why were there still so many Beauty Retailers requesting customers DM them? Perhaps they were not aware of their Customers needs? Or did they know something I didn't know about customer interaction.  So I decided to see how I could bridge this gap by initiating a conversation via Instagram
I asked the Retailers first, why don't you state prices of the products you market as available for purchase.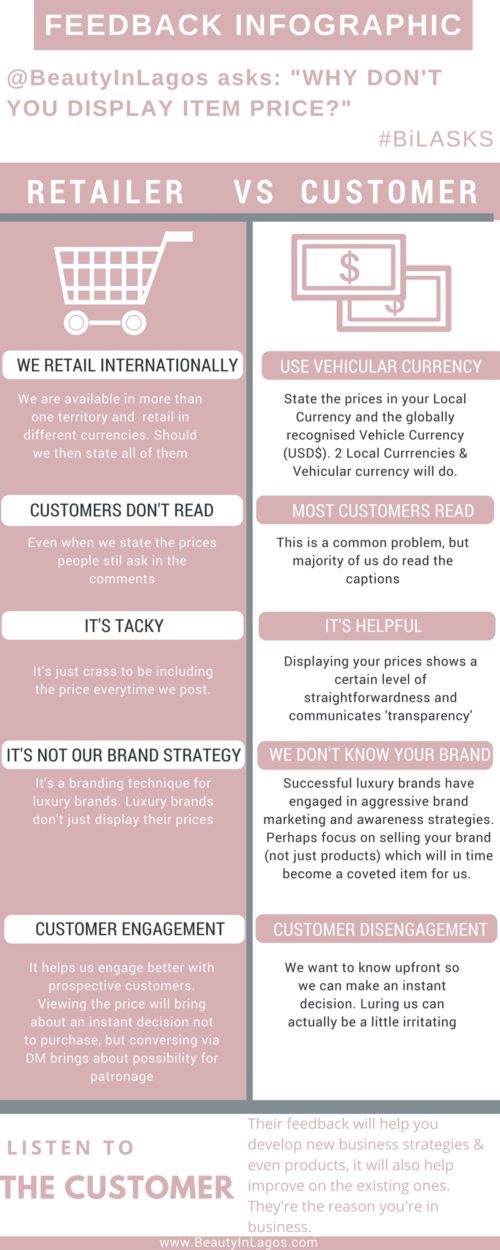 I got quite a number of reasons which I have provided in the Infographic above. The great thing about this was that the customers provided their feedback to the retailers reasons, and it just so interesting to see the disconnect. I will share my thoughts on all this a little later in this post.  There were a couple more responses from Retailers:
IT'S UP TO US WHETHER WE STATE OUR PRICES OR NOT

CUSTOMERS A RUDE ABOUT THE PRICE OF ITEMS

IF THERE IS A PRICE CHANGE ON AN ITEM POSTED TWO YEARS AGO, SHOULD WE THEN GO BACK AND CHANGE IT
The following day, after hearing from the Retailers, I decided to pose a question to the Customer.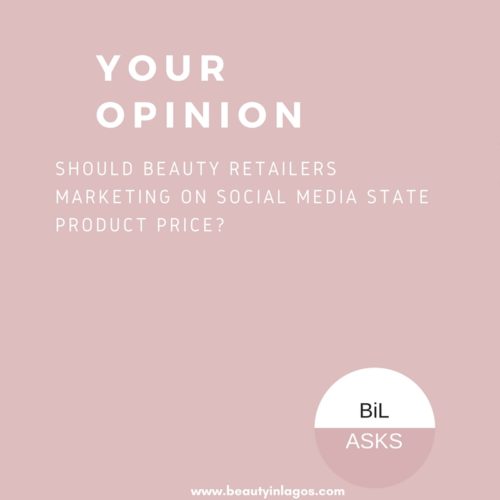 I wanted to keep it simple; as with the Customer I just wanted to know, based on the feedback from the Retailers would you still like to know the price of a product being marketed for sale rather than DM; I wasn't at all surprised by the results.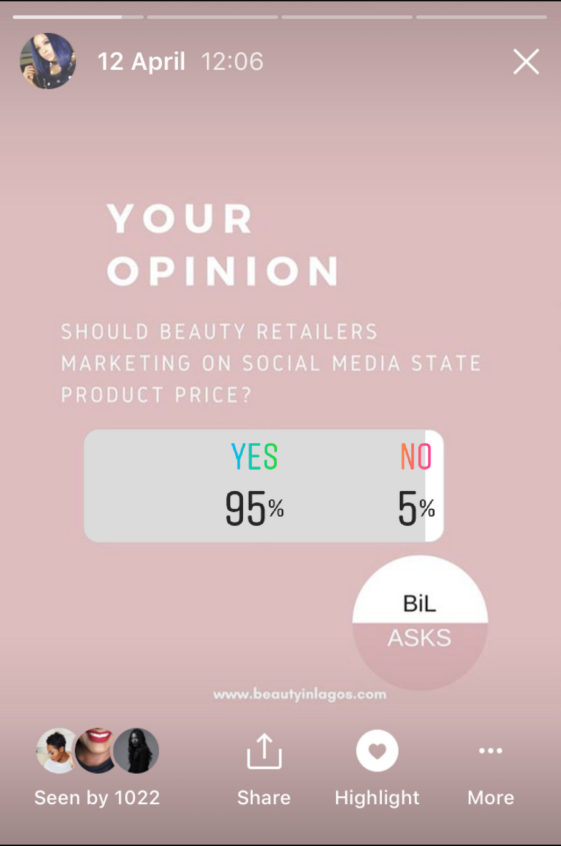 A total of 1,022 people took part in the poll and 95% said that they'd like Beauty Retailers to display their prices.
You want to know what's even crazier? There are STILL a number of Retailers arguing why they won't state their prices. The Customer is saying we would appreciate if you display the prices of the items you're marketing for sale, rather than instructing us to send a DM. You are insisting they send a DM…
What happened to: "The Customer is Always right". Yes, that's a huge blanket statement, and shouldn't be translated literally. It means the Customer should be the priority of any business, otherwise why else are you in business? A lot of the Beauty Retailers appear to make decisions based on personal preferences and not necessarily what the customer wants. Perhaps, until now, they weren't aware of their customers needs, so this will serve as market research for them to review. I did actually notice a number of retailers take this feedback onboard and comment that they will make necessary adjustments.
It's very easy to get caught up building a brand that YOU like, but remember at the end of the day it all comes down to the numbers. A business requires paying customers to thrive.
The issue of comparing your brand to Luxury Brands & bigger International Brands is something I feel needs a separate post of it's own but I will  say two words: BRANDING & MARKETING. It is fantastic to aspire to be like the big international brands, but please recognise that they spent time, effort & resources to build a brand that is easily recognisable; a brand that people desire to have.
Will continue this discussion in another post, but the general consensus is: DISPLAY YOUR PRICES ON ITEMS BEING MARKETED ON SOCIAL MEDIA.