If you had told me a couple of years ago that I would be rubbing snail goo on my face, I'd have laughed you out of the room. 'Snails are for eating hot and peppered,' I might have said. But alas, here we are. I found this product late last year when I was looking to kick my skincare routine up a notch. You see, I have oily combination skin which is prone to congestion and I had reached a bit if an impasse where my skin seemed to be getting oilier but also felt taut and dry. I discovered that my skin was in fact dehydrated, and this is something that we oily girls often neglect to notice. My oily skin was just thirsty.
Okay but what is this stuff exactly? It is an Essence.
Essences are basically water based, light gel textured products that are packed with active ingredients to hydrate skin on a deeper cellular level than a moisturiser can. They are very popular in Korean Beauty skincare regimens which are very trendy right now.
I use this AM and PM immediately after my toning step and right before moisturiser or serum.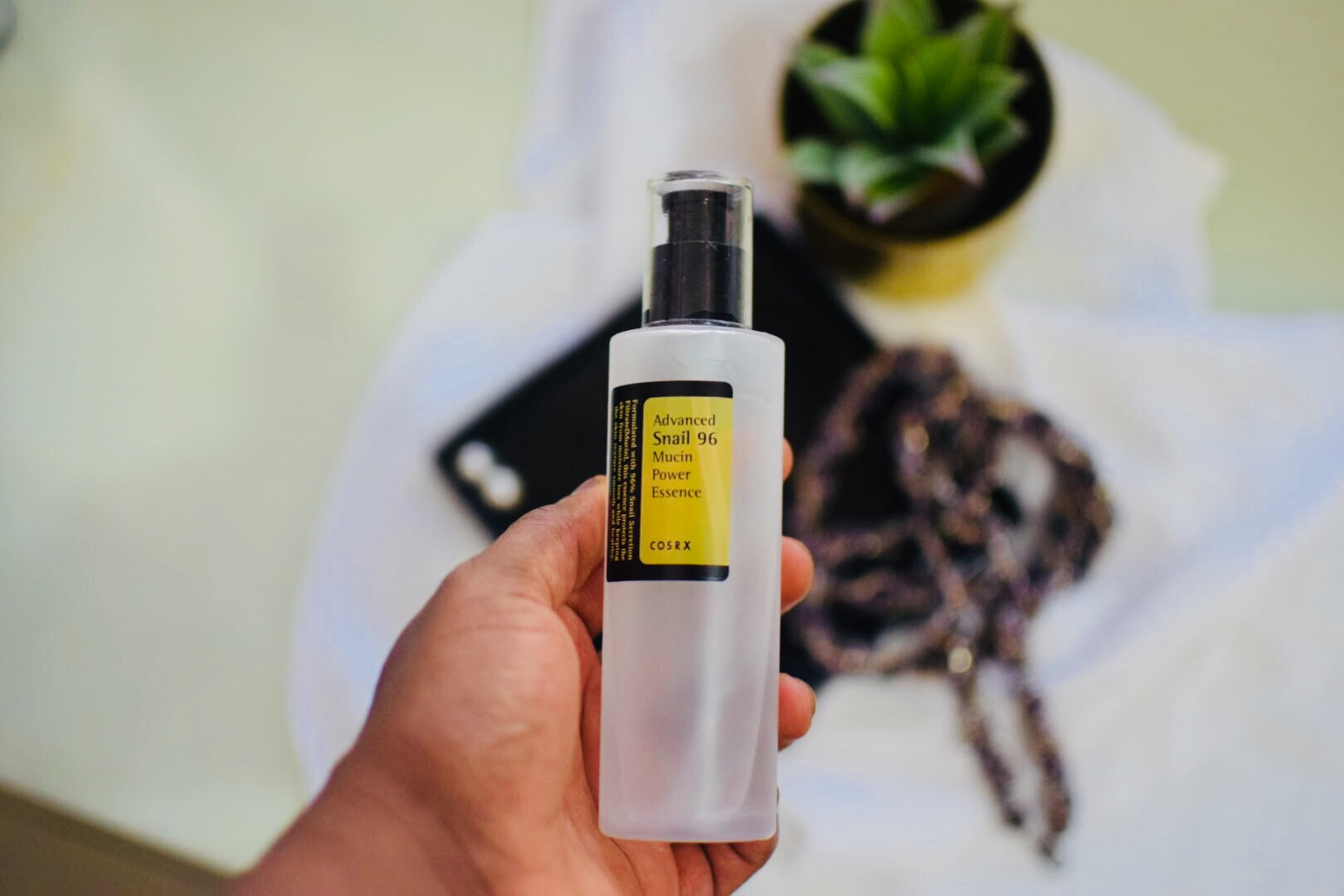 If I can attribute the overall improvement in my skin's health to any one product, I daresay it might be this. Used consistently, I have seen that my skin stays plump and hydrated for longer, which means it produces less oil to compensate and for me that's a win. No more break outs or dry patches. It has calmed the temper tantrum my skin was throwing right down. I noticed that this has also greatly helped heal my pigmentation and scars. It feels a little tacky at first, but sinks in quickly and because it is odourless, it doesn't feel as gross as it sounds. Once it is absorbed, I slather on my moisturiser and then my spf, and then my make up. Because it has helped to tame my oiliness, I find my make up is also staying put for longer – another win!
Apart from the snail slime itself, which makes up an impressive 96% of this product, there are some other foodie ingredients that contribute to its efficacy. Panthenol aka Vitamin B5 is famous for binding moisture. Arginine, a protein, encourages skin cell renewal which has an anti-ageing effect; and Allantoin, a compound which comes from garlic skin and/or comfrey, is responsible for soothing inflammation.
Repurchase? Definitely. I love the fact that it it not just a gimmick – it actually works!
---
Ingredients: Snail Secretion Filtrate, Betaine, Butylene Glycol, 1,2-Hexanediol, Sodium Hyaluronate, Panthenol, Arginine, Allantoin, Ethyl Hexanediol, Sodium Polyacrylate, Carbomer, Phenoxyethanol
Product Claims: Formulated with 96% Snail Secretion Filtrate (Mucin), this essence protects the skin from moisture loss while keeping the skin texture smooth and healthy. This essence is created from nutritious, low-stimulation filtered snail mucin in order to keep your skin moisturized all day while bringing back your skin's vitality. The filtered snail mucin replenishes and revitalizes nutrients with looking healthy skin. It's suitable for all skin types. For best results, use together with Advanced Snail 92 All-In-One Cream.
Minjiba is a creative African food blogger, TV cook and content creator based in Lagos and her cooking show 'Minjiba Entertains' airs weekly on The Africa Channel in the US & the Caribbean. In addition to developing exciting recipes from local ingredients, she is a sworn skincare addict and loves to explore products that use active food ingredients.
You can find her:
Instagram: @minjibacookey
Twitter: @minjibacookey
Website: www.minjibacookey.com