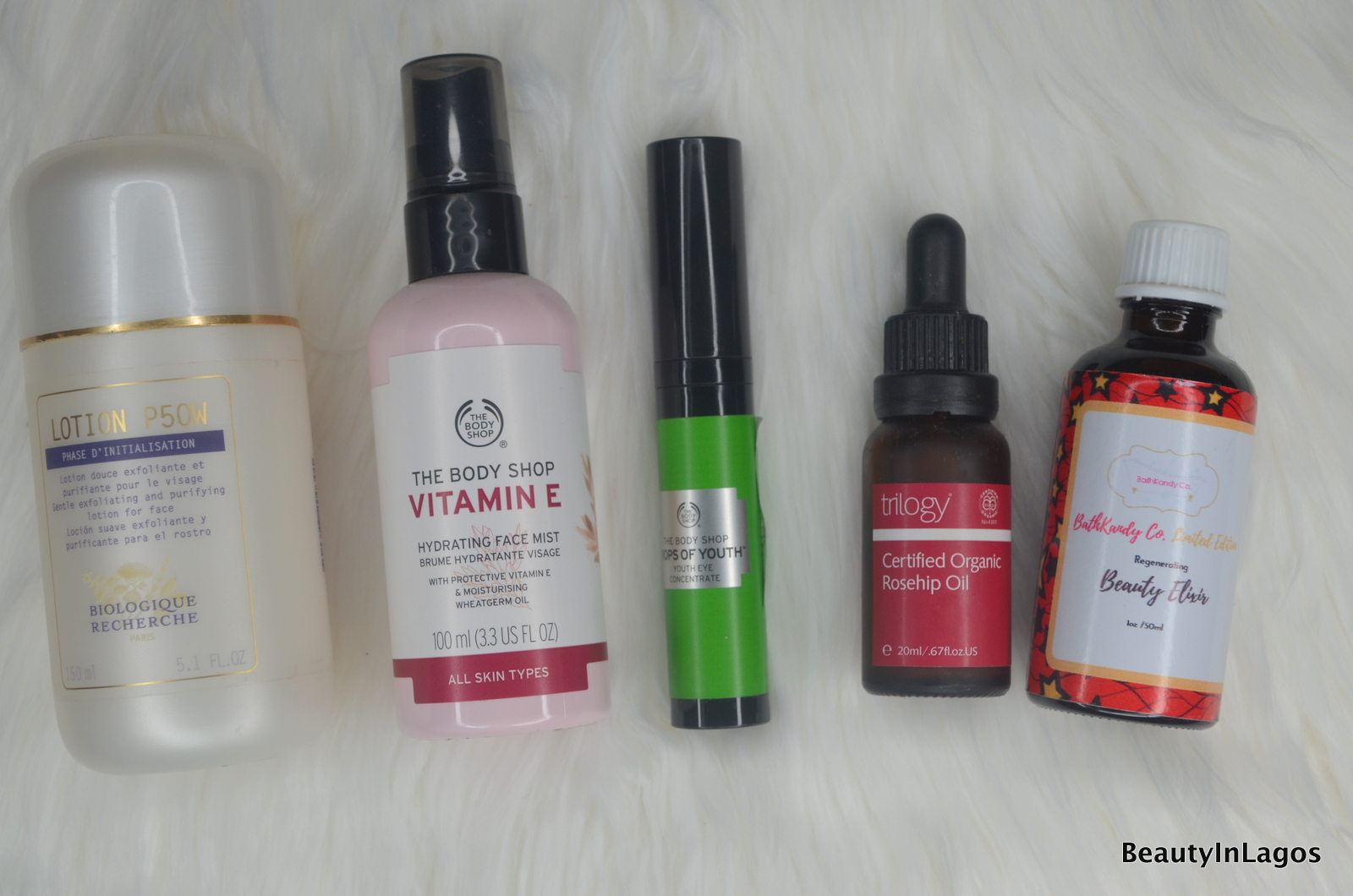 As promised, here's Part 2 of this series sharing some skincare products I am currently using. To catch-up on Part 1 click here.
Before I go any further, I have to let you know I haven't captured every single product I use in my routine in this post. I'm simply sharing some products that I am currently using and loving the results. The picture above isn't every product I use as part of my night-time routine, this is what I use after I have cleansed my face (so makeup remover, wipes and cleanser not included. For full routine click here)
Once I've taken my makeup off and cleansed my face, I use a toner and the one I am currently using is by Biologique Recherche (BR). Biologique Recherche Lotion P50, is a product I have used on and off for years, it's an exfoliant, the 'P50' in the name means 'Peel 50'. Basically if you use this toner consistently for 50days straight, the expectation is that in that period your skin would peel; revealing new baby-skin. I haven't been able to use it consistently for 50days because, laziness lol. But I love the results I get when I use it consistently, so it's a keeper. BR is a brand that I have mentioned previously on the blog (here) and is available in Nigeria. (Sidenote: There's a whole page on this blog that lists all the International Beauty brands that are available in Nigeria, just click the 'International Brands In Nigeria' link in the title bar').
After I use BR, if I have any pimples, I apply my spot treatment (not pictured) and then my Body Shop eye serum (green bottle pictured), then I hydrate my face using the Hydrating Mist by The Body Shop or Organic Rose Water (not pictured). I love going to bed with some sort of oil/serum/mask on my face, basically something that replenishes moisture while I sleep. Rosehip Oil is almost always my go-to for this, it's great for moisturising, restoring and treating scars.  I also recently started using the Beauty Elixir by Bath Kandy and I LOVE it! It's packed with so much 'goodness' : Vitamin C, hyaluronic acid, glycolic acid, etc. (for a full breakdown of ingredients and more, click here). I will also provide a full review of this in a couple of weeks, but I already see this becoming a staple. I alternate between both, but right now I am using the Beauty Elixir a lot more.
Organic Rose Water N3,500 – click to buy
Rosehip Oil N4,000 – click to buy
Bath Kandy Beauty Elixir N10,000 (Bath Kandy 'Glow-Up Box') – click to buy
As you can see from the products I use, just as in my Day-time routine, I like to have options, and that's ok, but consistency is what makes the difference.
Working on these posts had me reflecting a bit on how beauty-blogging, for me, has come a long way. I remember when I found it so frustrating because I couldn't share where to get products I recommended or reviewed. That 'Instant Gratification' factor was missing; being able to read a review or see a recommendation of a product and instantly purchase it… Just looking at my full skincare routine post clearly depicts that. But fast-forward a couple of years and I can literally provide direct links to products, and I am so happy with that! Just goes to show that we as a community, the beauty community (bloggers, retailers, brands, enthusiasts, etc.), are growing and it makes me so so happy and even more excited to do what I love.
Anyways, tell me, what skincare products are you currently loving in your night-time routine? Please share with me in the comments.